Innovative Technology Debuts the Justin Power Case, A Rechargeable Power Case Designed for Tablets, Smartphones and MP3 Players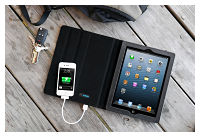 June 4, 2013 – Innovative Technology, a rapidly growing manufacturer of audio video systems and accessories for iPad, iPod and iPhone, is scheduled to launch its Justin Case Two-in-One iPad Case with Built-in Battery Charger on QVC Saturday, June 8 at 10AM (ET). Debuting on the leading multimedia retailer a week before it is available at other retail locations, the Justin Case by Innovative Technology is a stylish rechargeable power case designed for the iPad and is the first product in the company's power solution collection of cases for mobile tablet and smartphone users. QVC will be offering a configuration that includes a stylus, as well as two exclusive colors, red and tan. The Justin Case will also be available in black.
"As a society, we are addicted to our mobile electronic devices, from tablets and smartphones to e-readers and digital music players. We need more power to stay connected all of the time. The Justin Power Case by Innovative Technology was designed with today's mobile consumer in mind—those that demand ample power, whenever and wherever they go," states Corey Lieblein, founder and CEO of IT. "The QVC customer base exemplifies the connected, stylish consumer of today, which is why we chose to debut the Justin Case with the leading multi-media retailer."
The Justin Power Case by Innovative Technology is a patent-pending power solution that pairs a fashion-focused, lightweight case with a built in 11,600mAh rechargeable battery. It features a universal USB charging port with a built in, slim-line battery that can quickly and easily charge the iPad within, as well as an additional iPad, iPhone, smartphone or tablet. The 11,600mAh rechargeable battery packs enough power to recharge the iPad twice or the iPhone up to seven times so users will never be searching for a wall outlet again.
The Justin power solution is both sleek and lightweight, the perfect combination for connected consumers on the go. The case features a synthetic leather exterior with a magnetic clasp to ensure that the iPad is securely held and protected from spills and drops. Justin keeps all of the iPad's buttons and ports, as well as its built-in camera, readily accessible and fully functional. The case also features bright LED battery indicator lights to prompt the user to recharge the case's battery before leaving the home or office.