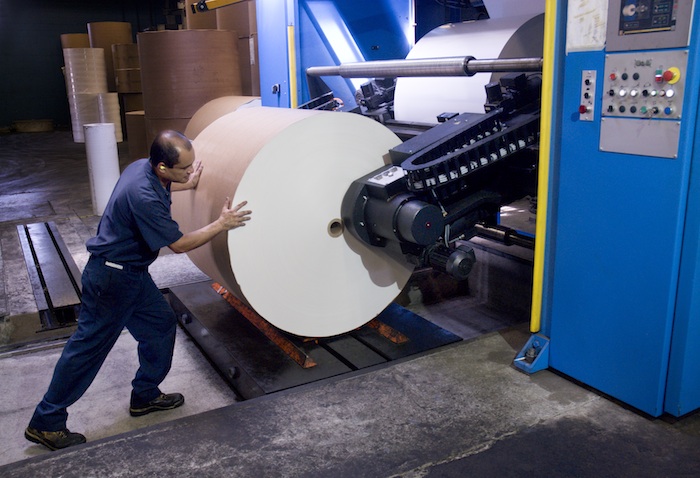 Inserts East serves its retailer customers with advertising inserts made with state-of-the-art production.
By Chris Petersen
Even in today's digital age, the printed word remains an effective way for advertisers to get their messages to consumers, and New Jersey-based Inserts East Inc. continues to lead the way in that regard. President and CEO Nick Maiale says business is booming for the company despite the rise of digital media, and that's due in large part to the company's ability to do more for its customers than the average printer. With its strong base of experience and knowledge, as well as its state-of-the-art technology, Inserts East won't be stopping the presses anytime soon.
Maiale's father, Gino, was president of the company for manyyears, when it was known as Able Printing. In 1988, GinoMaiale left the company to found his own print brokerage company. But when he received word in 1996 that Able Printing was about to be sold off and moved to Long Island, N.Y., Gino and Nick Maiale stepped in and purchased the company. Renaming the company Inserts East, theMaiales expanded its capabilities and added new equipment.
Today, Inserts East has more than 200 employees working out of a more than 150,000-square-foot facility in Pennsauken, N.J. The company's primary service is printing advertising inserts for newspapers, as well as direct mail advertising inserts. Its customer base includes regional and national retailers, including some of the largest in the country.
Although consolidation has reduced the number of commercial printers in the marketplace, Maiale says Inserts East still faces strong competition. Nevertheless, he adds, the company has the strengths and capabilities in place to stand up to that competition and continue to thrive in the Northeast.
People Power
Inserts East has dedicated itself to having some of the most advanced capabilities in the industry. For example, the company recently added another 36-inch, eight-unit heat-set web press, bringing its total capacity to 36 printing units and nine in-line folders. However, Nick Maiale says the company's greatest asset doesn't roll off an assembly line. "Our company's greatest strengths are the people that we have here," he says.
Inserts East has many people on its staff with many years of experience in the industry, and Maiale says everyone who works for the company puts the quality of the finished product at the top of their list of priorities. "They're proud of what they do," he says. "They're professionals."
With so many hard-working, talented people at its disposal, Inserts East has been able to build and maintain strong long-term relationships with its customers. The strength of its people is why Inserts East has been so successful in serving clients new and old, according to Maiale. "Our client base is very, very loyal," he says. "We have a very good mix of retailers who have been here and we've seen a lot of organic growth in our current client base."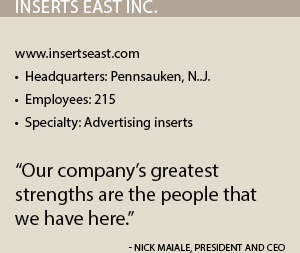 Finding New Avenues
Although Inserts East continues to have great success serving its customers, Maiale says there's no denying that one of the primary outlets for its advertising inserts – newspapers – is suffering a decline. Readership in newspapers is dropping off as people continue to look to the Internet or other media for their news, and Maiale says this has been Inserts East's biggest challenge over the last several years.
Newspapers may be on the decline, but Inserts East's customers still have the need to get their messages out to consumers, so Maiale says the company is dedicated to helping them find whatever print vehicle makes the most sense for them in the current environment. Inserts East has become more involved in creating other types of solutions for its customers, including creating signage, window banners and printing direct mail products. Maiale says the company also looks for other ways it can serve its customers through print, but the company also has digital capabilities it can offer them. "We offer the full package here, and you have to," he says.
Building Relationships
Maiale says Inserts East is excited about the future. Even though the last several years have brought with them many changes to the industry, the company is poised to take advantage of many of those changes. For example, market conditions have caused many of the company's weaker competitors to close their doors or be absorbed into larger companies, but that provides Inserts East with opportunities to take on new customers. "What I'm most excited about is all the new clientele we're bringing on board," Maiale says.
With the new clients the company is adding, Inserts East continues to grow. The company has been adding new staff and now runs 24/7 for its customers. Maiale says the company's goal in the immediate future is to focus on new ways that Inserts East can serve as an extension of its customers' own marketing and promotional efforts.
"I see us really focusing on what we can do to bring more value-added service to our clients," Maiale says. "Anybody can put ink on paper – it's the customer service and value-added assistance that strengthens client relationships."