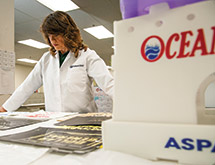 Ask any retailer and they will tell you that flexible packaging such as merchandise, garment and mailer bags are essential to commerce and a positive customer experience. That's where Inteplast Group's Retail and Grocery Business Unit comes in.
Established in 1991 and headquartered in Livingston, N.J., Inteplast Group is a major manufacturer of diverse and synergistic products, including packaging, industrial and stretch films, bags of all types and much more. The company serves wide-ranging markets, including national retailers and grocers.
Tony Myers, vice president and general manager of the company's Retail and Grocery Business Unit, says whether a retailer requires economical high density T-shirt bags, or custom designed low-density merchandise bags that promote a brand, Inteplast has their needs covered. "We excel at providing packaging solutions that match customers' most exacting requirements," says Myers.
"Our sales team has tenure and expertise in this industry, and our manufacturing capabilities are among the best in the business," he explains. "We work closely with retail buyers and marketing teams to execute their packaging visions. They know what they want. Our goal is to support that to the best of our capabilities."
Inteplast's talented graphic arts personnel furthers that commitment with the company's state-of-the-art facilities, equipment and software. "Our team skillfully creates or reproduces precise graphic designs that reinforce customers' branding efforts," says Myers. "Once the artwork is approved, we can have packaging products printed and ready for shipping in five to 10 days."
Maintaining appropriate inventories of packaging products is essential to retail success. "Packaging is such a critical part of commerce that retailers can't be in a position of being without it. Our automated warehouses, advanced inventory and information technology systems, coupled with our impressive North American distribution capabilities, give customers peace of mind," says Myers.
"We work in tandem with customers and distributors to ensure they have the products they need when and where they need them. We replenish stock continually and take pride in our reliability," he adds. "They also appreciate that we only use the finest raw materials, so all of our products are recyclable."
Polyethylene mailers are an in-
demand item for retailers today in line with increased online retail presence and e-commerce. "Our poly mailers reduce freight costs, feature client logos for extra advertising and more," says Myers. "Our 2.2 mil wave top bags that meet many state and local requirements for reusability are popular as well."
Because so many of Inteplast's products are synergistic, the company is able to provide a one-stop supplier solution that captures major cost and time efficiencies. "We are the only manufacturer I know of that can bundle custom merchandise, garment and mailer bags along with our myriad of other essential items such as can liners of every size, strength and application imaginable," says Myers.
A robust supporter of American manufacturing, Inteplast Group has more than 50 locations in North America, encompassing manufacturing, distribution and sales. Strong international sourcing capabilities and four locations in Asia enhance its impressive global supply chain. Visit www.inteplast.com for more information.