International Home + Housewares Show 2017 Preview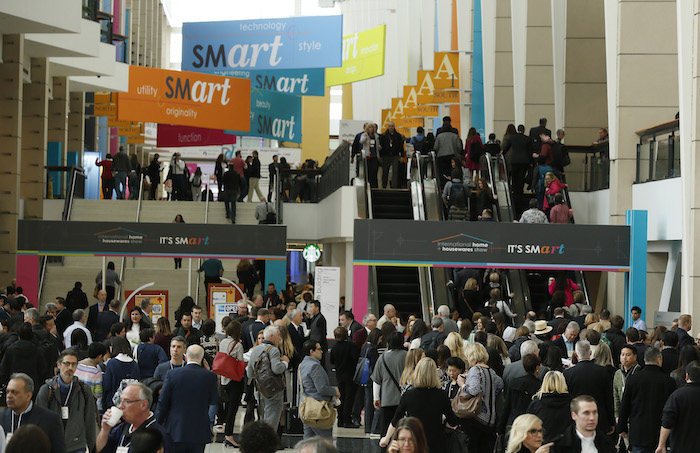 The 2017 International Home + Housewares Show will see a renewed focus, driven by design and innovation, as it shows more than 62,000 attendees the latest housewares and home goods.
By Phil Brandl, President and CEO of IHA
The 2017 International Home + Housewares Show, the world's largest marketplace of housewares and home goods, will be held March 18 to 21 at Chicago's McCormick Place Complex. With more than 2,200 suppliers from more than 45 countries and 62,000 total attendees, the Show is the one event you need to attend to find the unique and distinctive products to make your business successful. It is owned and operated by the not-for-profit International Housewares Association.
"It's smART" will be the show's theme, which will show attendees "where art intersects with engineering and technology informs design." The housewares industry is driven by design and innovation – the 'ART' in smart. This idea will be very visible with the show's emphasis on the smart home and connected products through educational offerings and the new IHA Smart Home Pavilion in the Hall of Global Innovation. The Internet of Things (IoT) movement is already part of our every-day lives and is growing rapidly. Thus, the future is exciting for the smart home with several trends emerging in cooking technology, healthy eating, safety, convenience and voice control. The IHA Smart Home pavilion will feature current and upcoming product suppliers and developers displaying products that demonstrate the future of our industry.
Other highlights of the 2017 show include:
New Exhibitor Preview! – Buyers can start their Show early with a visit to the expanded New Exhibitor Preview! open at 8 a.m. on Saturday morning before the show opens. Take advantage of this opportunity to see new products from 90 first-time exhibitors, including participants in the IHA Smart Home Pavilion.
Discover Design Expo: This Expo will feature nearly 200 design and trend leaders of the latest in high design from Europe and around the world. Exhibitors cover all show categories. On Sunday evening, buyers are invited to stop by the Toast to the Trends networking reception and mingle with colleagues and Discover Design exhibitors.
IHA Global Innovation Awards (gia): The IHA Global Innovation Awards (gia) honor the best in product innovation and design. All finalists are spotlighted a display in the Hall of Global Innovation and winners will be announced during the gia awards dinner on Saturday evening. Check out the display on Sunday morning to see who has won the gia for product design.
Networking After Dark Reception: All U.S. and international buyers and news media are invited to end their day by stopping by the Networking After Dark reception on Monday, March 20. Join U.S. housewares exporters for food, drinks, music, international networking and plenty of fun.
Cooking Theater: Celebrity chefs will demonstrate their cooking techniques in presentations each show day. Stop by and see your favorites.
Recharge Lounge: Buyers working hard will discover the new Recharge Lounge near the Cooking Theater where they can pause for a few minutes and recharge their phones and other devices.
Show Mobile App: Download the free app from the iTunes Store or Google Play orby going directly to m.housewares.org from your mobile device. You can search for exhibitors by name, categories or products; link from an exhibitor's profile to their boothlocation on the Show floor; and access all show information including hours and registration details, attendee services, special events and displays, keynote and Innovation Theater sessions, the Cooking Theater line-up and more.
The show offers many educational opportunities, including keynote sessions on the big stage. Returning are perennial favorites, Lee Eiseman, who will hold court on color in two sessions, and Tom Mirabile, IHA's and the industry's trend guru, will discuss who the rapidly evolving consumer is. New keynote sessions in 2017 will be an in-depth look at the smart home phenomenon, hosted by experts Carley Knobloch and Mike Wolf; and, in an effort to delve into the mind of millennials, HFN will host a focus group of millennials to answer questions about what motivates their home purchases.
The Innovation Theater, which offers 21 programs throughout the show, will feature several presentations on various aspects of the smart home and connected products, along with experts on international lifestyle trends, age and gender marketing, design and other topics. And as with the keynote sessions, audio and an occasional video of each speaker will be available at www.housewares.org after the show.
Buyers can register for a free show badge and find information on all show exhibitors, events, seminars and displays at www.housewares.org.