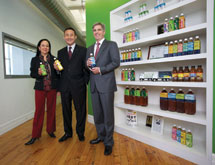 Green tea is a Japanese staple and it seems the climate is just right in the United States for the herbal sensation to flourish here, as well. Eastern tastes, such as sushi and soy, have penetrated Western culture and the shift toward a healthier lifestyle has left U.S. consumers with a void ready to be filled with new products. For ITO EN (North America) INC., a company born out of Japan and launched in North America in 2001, it seems the stars have aligned for its inevitable success.
ITO EN manufactures all-natural ready-to-drink teas, tea bags and loose leaf teas and notes that the market for green tea, its flagship product, is vastly different from 12 years ago, when the company's main focus was on education. It introduced itself with a flagship teashop and restaurant in Manhattan where it introduced a green tea lifestyle to United States' most sophisticated and worldly population.
The flagship location provided ITO EN with brand recognition, allowing it to transition into new channels of retail distribution – first natural food stores and then into traditional grocery stores and convenience stores. When the lease was up after 10 years, the company decided to close the store and focus on expanding their brands nationwide.
Though the store is gone, its effect of establishing ITO EN as the top all-natural green tea brand remains. The company worked to establish its market and as its executive vice president explains, the market is now working for ITO EN.
"The key trend we are seeing is that consumers desire all-natural, better-for-you beverages," Executive Vice President Jim Hoagland explains. "Fortunately tea, and especially green tea, fits perfectly into this trend. Our company will continue to respond by developing all-natural products with ready-to-drink beverages and loose leaf tea and tea bags."
East Meets West
ITO EN launched its all-natural TEAS' TEA line in 2002. It began with a line of unsweetened teas and expanded into slightly sweetened teas in response to the mainstream consumer demand for healthier alternatives sweetened with wholesome, all natural ingredients. The company is delving even further into the tea market with its newest line, called Tea's Tea half & Half, where ITO EN's classic pure green tea is blended with all natural fruit juices, natural cane sugar and a hint of stevia – a natural sugar substitute.
"We have a long history of blending tea with other natural ingredients to make a great product," Hoagland says. "The half-and-half demonstrates our ability to leverage our tea product and align it with the palate of customers in the United States. But one of the key differences to our line is the introduction of green tea.
"Traditionally, half and halfs are made with black tea. With the green tea, you get the extra benefit of antioxidants, it's only 100 calories per bottle and by using natural cane sugar and stevia you get a healthier, great-tasting product," Hoagland adds.
ITO EN launched Tea's Tea last summer at the World Tea Expo with three flavors – green tea with lemonade, apple and peach. It has since followed up with two new flavors – green tea with coconut and grape. The new line has already garnered accolades. After winning awards in the ready-to-drink flavored iced tea category at the 2012 North American Tea Championship, ITO EN is introducing a line extension to include a green tea with the superfruit acerola cherry, which adds an even greater punch.
Acerola cherries contain vitamin C to improve the immune system and protect against cardiovascular disease; vitamin A is known to treat eye and skin disorders, ulcers and sinus infections; folate aids in healthy cell production; and potassium helps maintain a healthy blood pressure.
Full Circle
Rona Tison, senior vice president of corporate relations, explains that the half-and-half line catches the interest of non-tea drinkers who are looking to convert to a healthier beverage and maybe come full circle into the unsweetened tea market. Pure green tea might be a big switch for the novice tea drinker, however, half-and-half is a familiar and even nostalgic beverage for many North Americans.
"One of our earlier challenges is the fact that the unsweetened tea market is such a small part of the nation," she says. "By introducing half and half, it's a bridge to people who don't usually drink tea. With less sugar than other half-and-half beverages and the added benefits of green tea, it becomes a bridge to ultimately shift into an unsweetened pure green tea, which is what we are known for. The company pioneered the first ready-to-drink unsweetened tea in Oi Ocha, being the No. 1 selling green tea in Japan."
Those who do make the switch will find many benefits. Green tea is rich in antioxidants and its caffeine content is offset by its natural theanine content, which is a mild relaxant, the company says. Combined, it gives drinkers the energy boost of caffeine without the jittery effect. The targeted health benefits of green tea and other ITO EN products are one of the company's main draws. As consumers become more familiar with the brands, Tison says the company will begin to introduce more members of the ITO EN family to North American consumers.
Its Japanese parent company, founded in the 1960s, has a robust line of all-natural beverages designed around the ITO EN core principles: natural, healthy, safe, delicious and well-designed. ITO EN has brought some of these products, such as Japanese tea beverage Oi Ocha, into North America. The parent company offers several other products including vegetable beverages, black tea beverages, coffee beverages, Chinese tea beverages, fruit beverages, mineral water and functional beverages, which target specific needs such as alertness or digestion.
Over the past few years, the North American division has invested in manufacturing capabilities to make some of the product locally and bring more ITO EN products into the western market.
"We are listening to customers and even when we hand out samples, we get feedback and we take that information and use our resources to develop new and exciting beverages," Tison says. "In the green tea world, we are seeing customers become much more aware of the different varieties and they are looking for higher-quality green teas.
"I see the palates evolving and there is greater exposure to authentic tastes," Tison continues. "People are much more welcoming to an herbaceous green tea taste, which at one time was too foreign for the American palate. It does seem that today is our time."