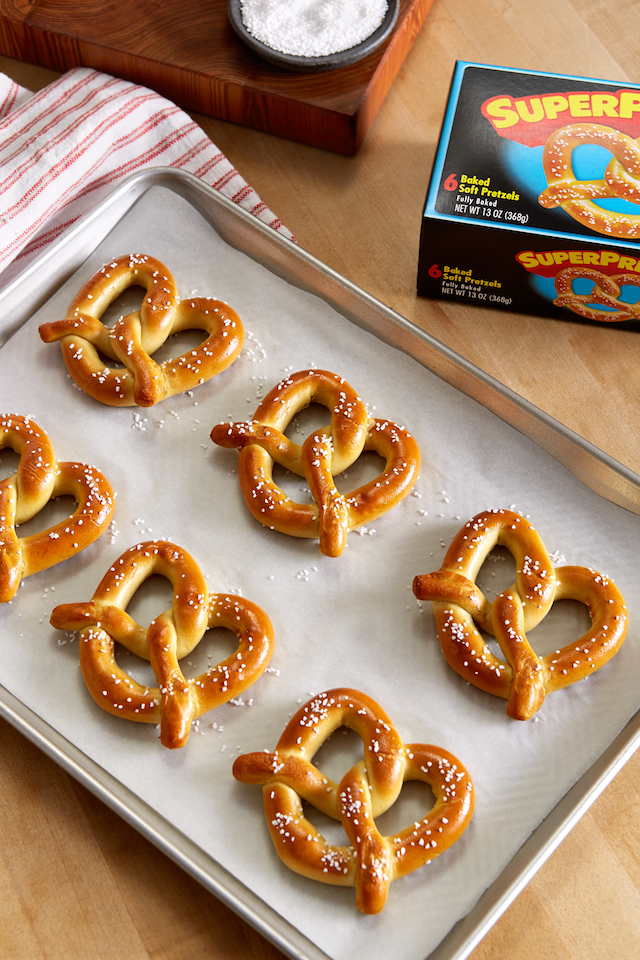 J&J Snack Foods leads the way in the soft pretzel market.
By Alan Dorich, Senior Editor at Knighthouse Media
J&J Snack Foods Corp.'s business is focused on food, but the company would not have its success without its team of associates, President and CEO Gerald B. Shreiber says. As the company has built its staff, it has sought people with drive, ambition and intelligence.
"They want to be a part of a company doing great things," he says, adding that he gives them autonomy to make important decisions. "I certainly don't want to slow them down."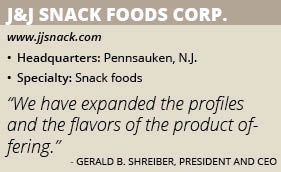 The Pennsauken, N.J.-based company originally started operations as J&J Pretzel Co., a soft pretzel business. But in 1971, the firm filed for bankruptcy.
Shreiber, who had recently sold his metalworking company, was looking for a new opportunity. "I stumbled on this bankrupt soft pretzel company," he recalls, adding that he purchased J&J at a bankruptcy auction for $72,100.
The firm's assets included very old baking equipment, $400,000 in sales and a staff of eight people with hearts "that couldn't be measured," Shreiber recalls. "I changed the name to J&J Snack Foods and we got started."
A Profitable Path
Since then, J&J Snack Foods has enjoyed 46 straight years of profitability. "We're well over a billion dollars in sales," Shreiber says, noting that the company supplies multiple products for the foodservice and grocery supermarket industries.
J&J Snack Foods' principal products include its SUPERPRETZEL® and Bavarian Bakery® soft pretzels, as well as its ICEE® and Slush Puppie® frozen beverages. The company also produces Minute Maid® frozen juice bars and lemonades, OREO Churros®, Whole Fruit® sorbet and frozen fruit bars, and Mary B's® biscuits and dumplings.
All of the products are manufactured at the company's 18 locations across the country. "They're all at key areas in the country with defined heavy interest," Shreiber says.
Some of the locations, Shreiber notes, were built from scratch, and J&J Snack Foods acquired the remaining locations. "We have improved our manufacturing facilities via capital investment to run more efficiently, expansion to hold greater capacity, and with continuous improvement plan to ensure we continue as a low cost, high quality producer," he says.
Each location has its own R&D center, which distinguishes the company and helps it be speedy to market, Senior Vice President Gerard Law says. "R&D is in touch with the facility," he says.
"Our R&D Teams' knowledge of the plant(s) and not being at a centralized think tank allows us to shorten our turnaround time from innovation to communication and deliver within weeks, not months," Law says. "It's just a very unique attribute that we pride ourselves on."
Pretzel Pride
J&J Snack Foods' most popular item remains its soft pretzel. Over the years, the company expanded the profiles and flavors of its product offering, which now range from its small pretzel bites to its large, 24-ounce pretzels that can be shared.
In the last two decades, J&J Snack Foods also began adding fillings and flavors, including cheese and pizza, to its soft pretzels. Law adds that the company's products are baked and not fried.
"They're made with simple ingredients," he says. "They continue to be part of what someone wants to put into their freezer at home or consume away from home at a foodservice location."
J&J Snack Foods dominates the soft pretzel sector with a 60 percent share. In addition, "[We have] an 85 percent share in retail in the frozen pretzel category," Director of Marketing for Retail Joanne Mizner declares.
Ahead of the Curve
J&J Snack Foods is coping with many changes in its market, including the customer need to get products faster. "The lifecycle of products seems to be changing where we have to constantly be creating new flavors and product types to stay ahead of the curve," Law says.
Customers also are becoming knowledgeable about J&J Snack Foods' offerings with more information at their fingertips via the Internet and social media. "They're requiring much more of their products," Mizner says.
But meeting these expectations can be challenging for J&J Snack Foods. "We want to be innovative with our brands and renovate them, but we don't want to stray from our core brand strengths, thus alienating our consumers," Law says.
A recent example is the company's Whole Fruit brand, which has recently become Non-GMO Project verified. "It gives the consumers an added benefit, and point of difference versus our competitors, as well as other JJSF frozen novelty brands," he says.
This sets it apart from the company's LUIGI's Real Italian Ice line, which keeps J&J Snack Foods from cannibalizing its customer base by appealing to the whole family, Law says. Meanwhile, "Whole Fruit is something that maybe Mom is going to buy for herself," he describes.
Cool Products
Frozen products have long been a focus for J&J Snack Foods. "Our initial entry into the Italian ice business [was] in 1985," Shreiber recalls, noting that they represent nearly $120 million in sales for the firm. "We're expecting some real good things from that product.
"It complements soft pretzels perfectly," he continues, adding that the company has added many frozen brands over the years, including Minute Maid brand license. "We are the exclusive manufacturer of any Minute Maid frozen novelty."
Recently, J&J Snack Foods acquired the frozen products license under the Auntie Anne's brand. "We're excited about bringing the Auntie Anne's brand to the retail space, in a big way," Mizner says. "Items will be hitting shelves nationally, in a new packaging look and reformulated product taste. We want to really deliver on the Auntie Anne's taste profile consumers not only love, but crave!"
The company also recently announced a license for Sour Patch Kids® for frozen novelty items. "We've had great retailer acceptance thus far," Law says. "The product delivers on the Sour Patch brand promise and is the perfect match of sour and sweet."
Shreiber adds that J&J Snack Foods is careful when acquiring a brand's licensing rights. "We want to make sure if we acquire and develop a product [that] it's going to fit in with our customer base and logistics," he says.
Building Barriers
J&J Snack Foods has set itself apart over the years through its level of quality and its speed to market. "We've established a barrier to entry against competitors," Shreiber says. "We continue to build on that."
J&J Snack Foods also distinguishes itself with its technology, which allows it to be a low-cost producer of high-quality products. For example, "With our frozen novelty swirl facility, we are the only company with the ability to twist various flavors in one novelty pop on the production line," Law says.
"No one else does that," he asserts. "We've innovated, created barriers and unique ways to make products."
Technology also enables J&J Snack Foods to keep in touch with its consumers and receive their immediate feedback on products, advertising and promotions. Mizner explains that the company can see where its consumers spend the most time and the additional product flavors they are looking for.
"We have social media pages for all our brands where we're constantly engaging with them every day," she says. "They're very smart, and they want to know about the ingredients and allergens in their products. Our social media channels allow consumers to promptly find the info most important to them."
Shreiber adds that the company makes sure it is up-to-date in these efforts. "We continue to upgrade our social media capabilities, monitoring and presence with [our] marketing staff and vendor partners," he says.
Cultural Commitment
J&J Snack Foods operates with a culture focused on working hard. "Sometimes I kid around [and say], 'When does the fun begin?'" Shreiber jokes, but asserts that the company makes sure that its staff has fun in the workplace.
"We're very quick on our feet on decisions," Shreiber continues, adding that this has helped J&J Snack Foods enjoy more than four decades of continuous success and growth. "You don't find many companies that have [that]."
J&J Snack Foods also enjoys longevity in its staff, with employees who have been with the firm from five to 40 years. Shreiber has nurtured this loyalty through the company's employee ownership program.
"I wanted them all to have a piece of the rock, whether it was a simple pebble or more," he says. The company's associates share in its success through stock options or a stock-buying plan.
This distinguishes J&J Snack Foods from competitors that experience far more turnover, Law says. "[It] allows us to have a consistency of purpose that breeds success," he explains.
"We're a flat decision-based business that's innovative, cost-conscious and focused on quality people who have been here for a long time," Law says. "They're committed to the culture and leadership."
J&J Snack Foods plans to stay committed as it achieves more continued growth and success. "[We also want] continued innovation in product development and continuing in our niches with the same nucleus we have," Shreiber says.
SOUR PATCH KIDS, SOUR PATCH KIDS Logo, SPK, SOUR.SWEET.GONE., SOUR THEN SWEET and SPK Kid Design are trademarks of Mondelez International group, used under license. MINUTE MAID is a registered trademark of The Coca-Cola Company.
OREO is a registered trademarks of Mondelez International group, used under license.
SIDEBAR – For the Dogs
J&J Snack Foods Corp.'s foods are not limited to humans. The company's Dogsters brand offers ice cream-style treats for dogs, in Nutly Peanut Butter and Cheese and Minte Kissably Fresh flavors.
The company's president and CEO, Gerald Shreiber, also strives to help animals through charities, including Shreiber Animal Foundation Enterprise (SAFE), his personal foundation. "SAFE, in turn, contributes to and supports various philanthropic organizations, such as the Pennsylvania SPCA, the Jane Goodall Institute, the Humane Society of the United States, North American Wildlife Park Foundation Inc., PETA and several pet therapy programs," the firm says.
SIDEBAR – Convenient Treats
J&J Snack Foods' lines include baked goods such as Corazonas HEARTBAR Oatmeal Squares. "These convenient bars are delicious, good for you and fun," the company says.
Its Daddy Ray's variety of fruit and fig bars are made with premium ingredients. "Their great taste and easy portability make them a convenient treat to enjoy anywhere," J&J Snack Foods says.
The company also sells sugar-free and no-sugar-added bakery items from Hill & Valley. "Offering an assortment of pre-baked cakes, cookies, pies and muffins, Hill & Valley has an answer to everyone's bakery needs," it says.