J.D. Power, LMC Automotive Report: Strong New-Vehicle Sales in February Drives Robust Selling Rate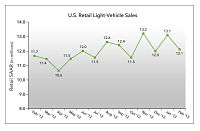 Feb. 22, 2013 – The new-vehicle retail selling rate in February remains above 12 million units—stronger than it was a year ago—as the auto industry recovery continues, according to a monthly sales forecast developed by J.D. Power and Associates' Power Information Network (PIN) and LMC Automotive.
Retail Light-Vehicle Sales
February new-vehicle retail sales are expected to come in at 931,100 vehicles, which represents a seasonally adjusted annualized rate (SAAR) of 12.1 million units, a decline from the robust 13.1 million SAAR in January, but stronger than the 11.7 million SAAR in February 2012. Retail transactions are the most accurate measurement of true underlying consumer demand for new vehicles.
"All signs of the industry's health are positive right now," said John Humphrey, senior vice president of the global automotive practice at J.D. Power and Associates. "Average transaction prices are up, incentives are stable, leasing is at a healthy level and newly redesigned models continue to make an impact on the marketplace."
Total Light-Vehicle Sales
Total light-vehicle sales in February 2013 are projected to reach 1,176,200 units, a seven percent increase from February 2012 and the fourth consecutive month with the selling rate at or above 15.2 million units. Fleet share is expected to remain at the January level of 21 percent.
Sales Outlook
The outlook for 2013 continues to improve, as the selling pace remains robust. In fact, LMC Automotive is increasing its 2013 U.S. forecast for total light-vehicle sales to 15.3 million units from 15.1 million units. The increase is split between fleet and retail light-vehicle sales, with the outlook for retail increasing to 12.5 million units from 12.4 million units.
"The current fundamentals that are driving strong vehicle sales—pent-up vehicle demand and a stable, recovering economy—are expected to get a boost by additional positive factors this year," said Jeff Schuster, senior vice president of forecasting at LMC Automotive.
North American Production
North American light-vehicle production in January 2013 finished at more than 1.3 million units, seven percent higher than in January 2012. Production in Mexico has increased by nearly 21 percent from January 2012 on higher General Motors, Ford, and Volkswagen volumes related to newer launches. U.S. vehicle production has grown by nine percent from January 2012, while Canadian production has declined by 13 percent during the same period.
Vehicle inventory levels in early February increase to a 74-day supply, compared with 59 days in January. A higher level is typical in February. However, at the current selling rate, inventory levels are expected to rebalance within the next month or two. Overall, there are nearly 3.1 million units currently available on dealer lots or in transit—an increase of approximately 600,000 units from February 2012.
LMC Automotive's forecast for North American production remains at 15.9 million units for this year, a three percent increase from 2012.