Jennifer Adams Worldwide Partners with The MT Company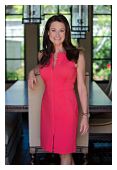 April 3, 2014 – Celebrity Interior Designer Jennifer Adams has reached a multi-year, licensing agreement with the MT Company, an institution in the industry with a long history of producing hand-built, quality furniture. This new relationship rounds out Jennifer's robust licensing programs that consists of bedding, fabrics, bathroom sets, rugs, apparel, pet products, and home fragrance products.
The new line will debut an array of upholstered items set to Jennifer's creative vision using the same exceptional quality and custom comfort which has built both brands. The furniture line will consist of sofas, ottomans, dining chairs, among others and will debut in the U.S. market this Holiday 2014 for Spring 2015 shipping. The deal was brokered by All-American Licensing & Management Group (AALMG).
"My love affair with making and designing furniture goes back to my childhood when my family would make furniture for our home," says Jennifer Adams. "Now all these years later, to be able to design my own furniture line with such a noteworthy, family owned and run company feels like I am coming home."
"I am so excited to partner with Jennifer on her furniture collection," states George Jordan, president of The MT Company. "She is immensely talented and our team is very excited to collaborate with Jennifer to assist her in creating her vision."