Jessica Simpson Announces Expansion Of Maternity Collection With Destination Maternity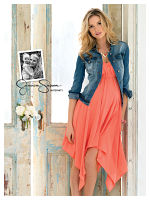 Jan. 14, 2013 – Jessica Simpson, who recently announced she is expecting her second child, will expand the Jessica Simpson Maternity collection with partner Destination Maternity Corporation to over 800 doors by early Spring 2013. The collection is currently available at approximately 350 points of distribution including select Destination Maternity, Motherhood Maternity, and Macy's stores. Simpson launched the Jessica Simpson Maternity collection in the Fall of 2012 through an exclusive licensing agreement between Camuto Group, the master licensee behind the Jessica Simpson Collection, and Destination Maternity, the world's leading maternity apparel retailer. Spring 2013 is the third delivery for the maternity collection.
"I am so thrilled this collection is growing and I am able to give even more women access to comfortable, fashionable and affordable maternity wear," Simpson said. "We have designed a collection that is every-day chic, from bright jersey knit dresses to dressed-up denim. I'm looking forward to wearing my favorite pieces during this pregnancy."
"Jessica resonates with women everywhere and the response to her maternity collection has only reaffirmed this connection," said Chris Daniel, President of Destination Maternity Corporation. "We look forward to the continued growth of our collaboration with Jessica and the Camuto Group, and to being able to offer our customers a well-rounded collection of maternity pieces from a designer they love."
The Spring 2013 Jessica Simpson Maternity collection has a soft and romantic theme. Flowing tops paired with skinny bottoms return as the signature look of the collection and are freshened up for the season with lace details, light airy fabrics, elegant florals and accents of neon for an aesthetic that is classic, superbly feminine and cool.