Joester Loria Group secures new licensing deals for Hearst publication, Popular Mechanics, with Round 2 LLC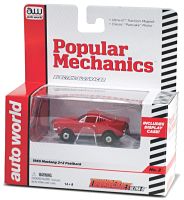 Jan. 23, 2012 – The Joester Loria Group has brokered a deal on behalf of Hearst publications with Round 2 for a line of Popular Mechanics scientific toys. Popular Mechanics has empowered its readers with the spirit of invention and power of knowledge. The brand will now capture young imaginations with a range of scientific toys.
Products will include "build your own" battery powered remote control toy, solar and dyno powered toys, forensic kits, telescope and microscope sets and weather observation kits. Round 2 LLC will also develop model kits, electric slot cars and die cast vehicles under the Popular Mechanics brand.
The first product launched exclusively at RadioShack this past holiday and included a build your own RC Bug and build your own RC Tank. New products for expanded distribution will be introduced at Toy Fair at Round 2's booth # 5477.