Joester Loria Group To Represent Chef and Restaurateur, Fabio Viviani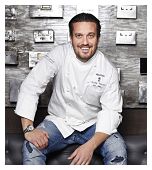 October 1st, 2013 – The Joester Loria Group has been selected by celebrity chef Fabio Viviani as his exclusive licensing agent. The Joester Loria Group, a full-service licensing and marketing agency recognized for its award winning brand-building programs, will develop and execute a strategic licensing program that brings Fabio Viviani's signature recipes and passion for food, wine and entertaining to a line of products that provide delicious, simple solutions to home cooks everywhere.
Fabio Viviani is a chef/restaurateur, author and TV personality. His cooking philosophy was borne in his grandmother's kitchen, where he learned simple ways to bring together great flavors. Viviani is the owner of three renowned restaurants: Firenze Osteria and Café Fírenze in the Los Angeles area and Siena Tavern in Chicago. Viviani is perhaps best known for his appearance on season 5 of Bravo's hit reality series Top Chef in 2008, earning the "Fan Favorite" title. Returning to the Emmy Award winning show, Fabio competed in Top Chef All Stars in 2011 and was cast in Bravo TV's biggest chef reality show to date – the culinary/lifestyle series "Life After Top Chef" in 2012. Viviani regularly appears as a reoccurring guest on television shows such as Good Morning America, The Talk, The Chew, and Ellen. He is also the host of the award-winning web series Chow Ciao! on Yahoo!, the #1 lifestyle and food show on the internet. Aside from working in his restaurants and television shows Viviani constantly promotes healthy eating for children.
The Joester Loria Group will be developing an integrated licensing and merchandising program that includes food, wine, spirits, housewares, cookware, and gifts.
"Fabio Viviani exemplifies why Americans have become foodies," said Debra Joester, President of The Joester Loria Group. "His passion and accessible approach to food and entertaining is a great platform for the kind of food and lifestyle products that millions of his viewers are seeking."
"If you ask me 'Success' comes before 'Work' only in the dictionary," said Fabio Viviani. "That's why when I had to face the choice of whom to team up with in order to expand the horizon of my brand I went out and asked who were the most dynamic, hardest working people in the licensing industry and that's how I meet the team at JL. They are intelligent thinkers, well organized, creative and they like to act fast, all qualities you need in a team to succeed. I have no doubt in their capability to help me make my brand a worldwide legacy."