John Varvatos Apparel Corp.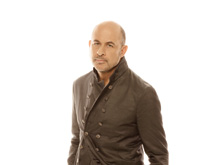 With the second season of his hit show "Fashion Star" having just premiered, celebrity mentor and international fashion icon John Varvatos is spreading his brand to licensed products throughout the world. When he was starting out, there weren't reality shows handing out design contracts, so his rise to stardom took a more conventional route.
Varvatos joined Polo Ralph Lauren in 1983 and was recruited to Calvin Klein in 1990, where he was appointed head of menswear design and oversaw the launch of the men's collection and the ck brand. In 1995, Varvatos returned to Polo as head of menswear design for all Polo Ralph Lauren brands and created the highly successful Polo Jeans Co.
For the fall/winter 2000 fashion season, Varvatos launched his first men's collection. That same year, he was recognized by the Council of Fashion Designers of America (CFDA) with the Perry Ellis Award for New Menswear Designer. He earned the award for an unprecedented second time in a row the following year. Varvatos earned his third honor from the CFDA in 2005. GQ named Varvatos its Designer of the Year in its 12th annual Men of the Year issue.
Two years later, Varvatos launched "New York Nights," a monthly radio show he hosted on SIRIUS XM's Spectrum channel. According to NBC, this show features songs and interviews from artists who have influenced Varvatos throughout his career in the fashion industry.
Varvatos joined the cast of celebrity mentors on NBC's "Fashion Star" for the show's first season in 2011. The reality competition series searches for the next big brand in fashion, and Varvatos serves as a mentor to contestants on the show.
On Fashion Star, contestants are given a challenge where they must design their creations, shop for materials and oversee the production of their garments. Varvatos and fellow celebrity mentors Jessica Simpson and Nicole Richie offer counsel to contestants as they work on their projects.
Contestants then present their creations during a fashion show delivered every week in front of three buyers: Caprice Willard of Macy's, Terron E. Schaefer of Saks Fifth Avenue and Erika DeSalvatore of Express. These buyers make on-the-spot decisions to purchase and carry the designs exclusively in their stores by pledging thousands of dollars in orders and often going head-to-head to bid on an item.
After the episode's broadcast, those designs become available immediately online and in select stores the following day.
Motown Background
According to NBC, Varvatos grew up in Detroit and his creative side was influenced by musicians like Alice Cooper, The Who, Led Zeppelin and Bob Seger.
"The creative spirit, electricity and edginess intrinsic in the personal style of these rock 'n' roll icons inspired Varvatos at an early age and influenced the evolution of his eclectic sensibility," NBC says. "This can be seen as a unifying theme in his design and it is deeply ingrained in every expression of his brand."
This theme extends to 315 Bowery, Varvatos' boutique in New York City. The store occupies the former site of famed music club CBGB.
"Varvatos pays tribute to the musical heritage of this legendary site," the network says. "With this unique brand position that unites a rock 'n' roll sensibility and old-world craftsmanship with modern innovation, Varvatos has become one of the most well-known menswear designers in the world."
This juxtaposition shows in his designs, which often draw from the past to retrofit old styles into new ideas. His collections feature attention to detail in the ways of old-world tailoring that creates luxurious comfort. "I have great reverence for the craft of old-world tailoring but a big part of what I love designing is functional, timeless clothing that is created to be lived in," Varvatos told NBC.
Licensing Away
The John Varvatos brand is spreading exponentially through a variety of licensing agreements with established iconic brands. In April 2012, beauty products giant Elizabeth Arden Inc. entered into an exclusive global licensing agreement for the development, marketing and distribution of John Varvatos men's and women's fragrances.
According to a statement, the John Varvatos fragrance collection includes the original John Varvatos classic fragrance, which was launched in 2004, the John Varvatos Vintage fragrance and the recently launched John Varvatos Artisan fragrance.
This January, REM Eyeware announced it extended its licensing agreement with the designer through 2018. In this agreement, REM will continue to collaborate with Varvatos to design, manufacture and distribute a collection of eyewear and sunglasses. According to VisionMonday.com, this license extension coincided with a global expansion of the Varvatos brand.
Varvatos also partnered with Chrysler for a vehicle. The Chrysler 300C John Varvatos Limited Edition comes with elements similar to the designer's clothing lines, including rich leather akin to Varvatos' jackets, dashboard mirrors similar to those on his watches, and metal trims inspired by the titanium bottle accents of fragrances.
'Fashion Star' and Beyond
Whether it is for his own licensing arrangements or a contestant's project on his TV show, Varvatos believes style is more than just the clothes a person wears. He says style encompasses everything a person does – aesthetically and through an attitude – that allows someone to show who they truly are.
"It really is so much about an attitude, which is about how you carry yourself," Varvatos says. "It's not just about how you wear your clothes, but it's about your whole persona. If you can make somebody feel different or special or strong or sexy, there is nothing wrong with that. It is a great feeling to make someone feel that way."