Just Hot Tub Covers Announces National Hockey League Themed Covers, with All 30 NHL Team Logos Available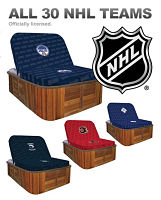 Jan 23, 2013 – Canadian-based business justhottubcovers.com has introduced a new line in their selection of hot tub covers, featuring NHL logos. They are officially licensed by the NHL and all 30 teams are available for order, including the Toronto Maple Leafs, the Calgary Flames, the Montreal Canadiens and the Ottawa Senators. The covers are made in Canada, and the website assures quality and customer satisfaction. According to the website, customer satisfaction is guaranteed and the company stands behind each of their products. Quality is never compromised, and they offer covers in numerous colors and sizes. The covers are made of vinyl, and all materials, from the stitching to the actual vinyl material is made of the highest quality.
The website offers comprehensive instructions on how to measure the hot tub to ensure that the right size is ordered. The company services all areas across Canada, including BC, Edmonton, Quebec and Ontario. Each cover comes with a 5-year warranty, although some restrictions apply. With proper care and maintenance, the covers could last up to 10 years or more. The website does caution that extremely cold temperatures and exposure to harsh elements could lessen the lifespan of the hot tub cover. Over-exposure to the hot tub chemicals may also interfere with the overall lifespan.
The company hopes that the new NHL hot tub covers will meet customers' demands for hockey-related items. Consumers can showcase their favorite teams to their friends and neighbors. For potential customers who have questions before they order, there is a "Contact Us" form on the website. A company representative will get back to them within 24 hours. Each of the covers is a bi-fold design, so it doesn't need to be completely removed if only one or two people are using it. This offers the benefit of both ease of use and cover longevity, because of less handling.
Just Hot Tub Covers hopes to add other NHL products in the future, such as spa pillows and spa cover lifters. They have been in business for a number of years and are leaders in the hot tub cover industry. They have a reputation for providing the best quality products at the lowest prices. Their customer service department is known for friendly, outgoing representatives, and they will continue to strive for excellence. The company hopes to continue expanding and offering quality products to their customers all over Canada and the U.S.