JustFab Announces Launch of New Flagship Store in Los Angeles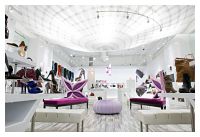 September 12, 2013 – JustFab, known for its engaging and personalized online shopping experience, today announced the opening of a 3,000 square-foot flagship store located at the Glendale Galleria. After redefining how women shop for fashion online, JustFab is once again at the forefront of innovation as the first fashion subscription e-commerce company to open a retail store.
Launched in 2010 as a web-only fashion brand offering women's footwear, JustFab has since expanded successfully into multiple international markets and into new product categories such as handbags, jewelry, denim and other accessories. Now, with over 33 million members worldwide through a portfolio of lifestyle fashion brands including JustFab, FabKids, ShoeDazzle, and Fabletics, co-CEOs Adam Goldenberg and Don Ressler are taking the company into traditional retail, upending the typical growth strategy most brands follow.
"JustFab has reverse engineered e-commerce into traditional retail with the opening of its flagship store. We have created the global leader in fashion subscription in just three short years and will now bring our customized shopping experience into physical stores to enable customers to touch and feel our products," said Ressler. "JustFab is now an omni-channel brand and has proven its innovation in fashion, television and retail."
"We've heard from our members that being able to see and try on products before they buy is still an important part of the shopping experience for them," said Goldenberg. "With the JustFab flagship, we are giving current VIP members and new customers a new way to connect with the brand and to experience the JustFab world in person."
JustFab's retail boutique was designed to mirror the brand's online shopping experience, with cohesive, trend-driven collections showcased against sleek white surfaces. Customers are able to shop curated product displays, with trend story videos and in-store personal stylists offering inspiration and fashion advice on how to wear the trends featured. Customers can now register at the boutique for exclusive VIP member pricing that was previously available online only. Casual shoppers can opt to purchase items at regular retail price.
JustFab has merged technology and fashion at its retail store to deliver an efficient and seamless shopping experience to all customers who walk through JustFab's doors. The company's product team custom-engineered a proprietary retail application that maximizes sales floor efficiency, allowing stylists to focus on providing superb customer service. Using the app's floor activity toolsets, JustFab stylists are able to check inventory instantly or to send product requests from anywhere within the boutique on their iPad mini devices, eliminating the need for stylists to physically check inventory or pull requested styles from the stockroom. The retail app also makes it easy for stylists to create wishlists for customers, or to get real-time status updates of customer requests.
Located at 1126 Glendale Galleria in Glendale, CA, on the first level of the Glendale Galleria, the JustFab flagship store will be celebrating with a grand opening event hosted by Kimora Lee Simmons, the brand's President and Creative Director, on Saturday, September 14.