Kashi Adds Two Flavors of Popular Soft n' Chewy Bars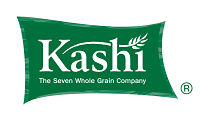 Jan. 9, 2013 – Bringing out nature's best tasting ingredients, Kashi, the premier natural food and lifestyle company, today announced the launch of two new flavors of its delicious Soft n' Chewy Bars—Kashi Berry Muffin and Kashi Apple Cobbler. With over one-third of each bar made with real fruits and veggie like apple and pumpkin, the new Berry Muffin and Apple Cobbler Soft n' Chewy Bars make the perfect anytime snack the whole family can feel good about.
"Delivering great taste and natural goodness you'll see and taste, our new Soft n' Chewy Bars are great for busy adults and kids alike," says Keegan Sheridan, natural food and lifestyle expert at Kashi. "Berry Muffin and Apple Cobbler combine real fruit and wholesome pumpkin with Kashi's signature blend of 7 Whole Grains to provide a nutritious snack with a home-baked taste you can enjoy no matter where you are."
Berry Muffin Soft n' Chewy Bars feature a combination of sun-ripened cranberries and strawberries; and Apple Cobbler Soft n' Chewy Bars with sweet apples and a touch of warm cinnamon. Both flavors offer a good source of fiber with 4 grams, 10 grams of whole grains and are free of artificial preservatives and ingredients, as well as high fructose corn syrup. Kashi's newest flavors join Banana Chocolate Chip Soft n' Chewy Bars, a scrumptious flavor combination of soft-baked banana bread with dark chocolate chips.