Davis is skilled at both and has developed a team that emulates the mission to inspire others to create a life they love, Van Aken says. "The culture here is one of a kind. I don't know that I've ever worked in such a creative, inspired environment."
The company also has a branded, four-foot greeting card section in 10,000 locations nationwide through its partnership with American Greetings. "In that branded statement, there is a row of nine full-frontal facing greeting cards where the entire profits – from American Greetings and Kathy Davis Studios – go to the National Guild for the Arts," Van Aken says.
Shifting the Brand
Van Aken joined Kathy Davis Studios two years ago, after working primarily in the fashion industry. "I really wanted to build brands and was introduced to Kathy," she recalls. "I knew right away that I understood her aesthetic."
The company has evolved under Van Aken's leadership. "Before my arrival, the focus was on developing licensing relationships," she explains. "[Now we] are in the middle of shifting our focus to developing relationships with our consumers."
This will benefit Kathy Davis Studios' partners and retailers, Van Aken says. "It's a comprehensive approach that includes everything from brand campaigns to social media PR," she explains. "We want to get to know our customer in a personal way and help her create a life she loves. [We're] opening the dialogue about what she is looking for and offering her meaningful tools to achieve it."
The firm also partners with those "who are lifestyle leaders in various different dimensions, whether it's an interior designer or a yoga instructor," Van Aken says. "We work with them to introduce Kathy Davis to the rest of the world, and that's one small piece of where we're taking it. We have exciting stuff coming up."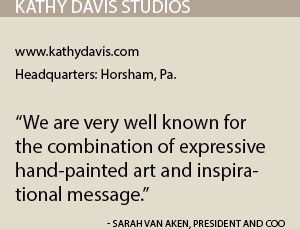 Streamlined Systems
The greeting cards industry has changed drastically over the past 26 years, which has made Kathy Davis Studios' partnership with American Greetings more essential. "When we went on board with them eight years ago, much of what we did was hand done," Van Aken says. "It wasn't integrated.
"American Greetings has helped support us in transitioning to a much more streamlined technology," she continues. "Their product lifecycle management also has given us a knowledge base about our product, and why and what is selling."
Although Kathy Davis Studios has updated many of its techniques, it prefers to rely on some tried-and-true methods. "We still paint images by hand and then scan them," she says.
The company also plans to keep developing its e-store on its website. "We're reformulating how it works," Van Aken reports. "It's becoming a much more central part in the year ahead."
A Special Place
Van Aken takes pride in her work at Kathy Davis Studios. "The thing that gets me here every day is that I believe in the mission," she says. "I believe in inspiring people to create a life they love every day. If we can help people feel good every day, that's incredible."
She also praises the staff, which includes a mix of young associates and veterans who have worked for the company for decades. "It's a family of people," Van Aken says, noting that employees take the time to celebrate birthdays or other events in each other's lives. "It's really a special place."
Kathy Davis Studios plans to grow further as a lifestyle brand, Van Aken says. The company will keep helping "people create a life they love, and foster connections between people, whether it's in their home, or for their wedding or for their baby," she says.