Keds Debuts Second Footwear Collaboration With Taylor Swift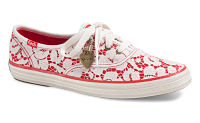 July 2, 2013 – Keds is kicking up style this fall with the introduction of its second footwear collaboration with seven-time Grammy winning, multi-platinum singer-songwriter and style icon Taylor Swift. The collection expands this season to 17 styles, offering an all-new array of prints, colors and finishes inspired by Swift, available globally beginning in July.
"It was really fun to have Keds on the same page as I was on," said Swift. "The fall collection is easy to wear with a lot of different looks."
"We captured the modern take on classic American fashion Taylor is known for by looking to pieces from her own wardrobe for inspiration," said Rick Blackshaw, president, Keds. "From a pearl necklace polka dot print to a really feminine lace overlay inspired by one of her favorite dresses, each shoe reflects a style statement that is uniquely Taylor. This collection is more personal, and we hope it inspires Keds girls everywhere to express their own distinctive individual style."
The color palette deepens for fall to rich hues of red, burgundy, navy, aqua, gray, and black. Prints include pearl polka dots, exaggerated florals and bubble shapes; and two new styles feature overlays of lace or sequins. Carried over are the special charms included with each shoe in one of two styles: a silver heart featuring Swift's favorite number 13, or a guitar pick in antiqued brass with Swift's logo inscribed in the middle.
The Taylor Swift for Keds fall 2013 collection will be available at retailers worldwide, with select exclusive styles on Keds.com, TaylorSwift.com, Nordstrom.com, Nordstrom stores, Journeys.com and Journey stores.