Kellogg's And Scholastic Team Up With Taye Diggs To Give Kids Access To Books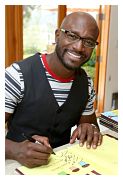 August 26, 2013 – Access to books may help improve student achievement and school performance, yet two-thirds of children living in poverty have no books at home. Kellogg's has teamed up with Scholastic as well as dad, children's book author and actor Taye Diggs to promote childhood literacy and the importance of having books in the home.
In a public service announcement, Diggs explains how U.S. families can help give kids great starts with great stories by placing 200,000 books into home libraries, schools and local communities.
"This is such an important cause for me, especially as a dad, since I know the impact that reading can have on young minds," said Taye Diggs. "Not every child has access to books at home. It's devastating. But, Kellogg's and Scholastic are offering fun, easy ways we can help get books in the hands of kids."
Families can support Kellogg's and Scholastic's efforts to place 200,000 books in homes and schools across the country via two ways to help. Collect Kellogg's Great Starts Great Stories codes from participating Kellogg's products to receive a free book or "gift" a book to a school in need through nonprofit literacy organization Books for Kids. Go to KelloggsFreeBook.com to learn more. Or visit www.Scholastic.com/MiniMissions to participate in Frosted Mini-Wheats Mini Missions and earn two free books monthly while supplies last, as well as enter a sweepstakes for the chance to win Scholastic books and grants for local schools and communities.