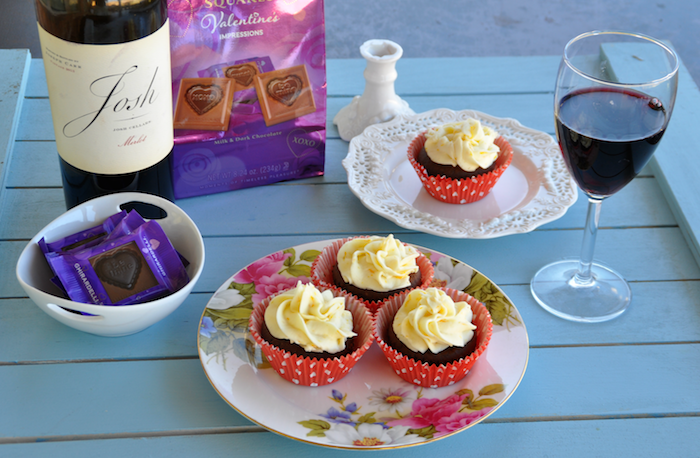 Kendal King Group's new Soapbox Insights + Influence division works with everyday influencers to move products from store shelves into shopping carts.
By Tim O'Connor
The retail industry becomes more complex every day. Products are introduced at an increasingly rapid pace, new trends emerge and die within the span of a news cycle, mergers and acquisitions are constantly reshaping the landscape and companies cope by asking fewer employees to do more work.
Stores and product manufacturers today need help in navigating those changes in retail. "More of our clients are coming to us to act as an extension of themselves," says Tom Hauge, vice president of business development for Kendal King Group, a retail marketing agency.
Clients trust Kendal King Group to win not only with the customer in the store, but with the buyers in the retailer's home office. "We've been speaking retail for 30 years," Hauge says, adding that Kendal King Group understands the retail environment better than its competitors. The company's foundation in retail shapes how it approaches insights from every level of activation throughout the shopper's journey.
Customers who utilize Kendal King Group may come to the company with one service in mind, but often see the value Kendal King Group creates and end up expanding the relationship. "We allow our clients to sleep well at night knowing whatever their need, we've got it handled," Director of Brand Licensing Adam Herbig says.
The company's services include designing point of purchase displays, creative concepting, in-store communication, packaging, brand identity and development, research and insights, retail environments, category and department sets, retail sales consulting, promotional licensing at retail and retailtainment. Kendal King Group also operates Clubpallets.com, a division that handles the procurement of merchandising for club stores.
Once a client is within the Kendal King Group fold, the goal is to help the client "win" at retail, Hauge says. That success can come in many ways, from attractive displays to influence campaigns and partnerships with other products. "They [retailers and manufacturers] are all starving for ideas," Hauge explains. "They are all looking for ways to creatively grow their sales."
Retailers and manufacturers often lack the time or people to develop those ideas themselves. That's when they turn to Kendal King Group. "In this industry, our clients just really have their heads down focusing on their business," Director of Strategic Marketing Beth Stephens says. "It's hard for them to step back at that level and think about what's new, what's innovative. They rely on us to do that."
Kendal King Group today is a one-stop shop approach for retail marketing, but the company's origin has a more singular focus. Kendal King Group began in 1987 as a Kansas City, Mo., P.O.P signage company for Walmart. As Walmart grew, Kendal King Group grew with it. The company branched into 3-D displays and retail marketing. In the mid-'90s, it opened a second office aimed at working directly with the retailer in Bentonville, Ark., down the street from Walmart's headquarters.
Other CPGs and retailers noticed the work Kendal King Group did for the world's largest retailer and felt confident the company could execute their own complex programs. Kendal King Group now counts companies such as American Express, CVS, ConAgra Foods, Clorox, Sony Playstation and the NBA among its clients.
Evolving Retail
With competition at retail becoming more complex, Kendal King Group is constantly thinking about how shopping habits change. Retailers are looking for new ways to engage shoppers and manufacturers want a partner that can help them win at retail. Hauge says the industry is obsessed with the term "shopper marketing," but Kendal King Group takes it to the next step by homing in on "conversion marketing"; that is, converting shoppers into buyers as they make their way through the path to purchase.
Many shoppers make their buying decision before entering the shop, which is why Kendal King Group embraces the idea of conversion marketing outside the store. If retailers and manufacturers are not targeting the shopper directly through other mechanisms then national marketing campaigns and brand awareness don't result in higher sales, Stephens explains. "Ultimately, we want those products to end up in carts, not just be on the shopper's general radar."
The company works with three pillars that allow it to meet the needs of clients: insights, strategy and tactical. Insights involves engaging manufacturing partners to help them learn more about their customers by connecting them directly with shoppers.
Strategy is getting products in the right place at the right time for the shopper. That process could mean bringing two products together to create a mutually beneficial marketing campaign or persuading a retailer to carry a product consumers want. The third pillar, tactical, is everything that must happen inside the store to get the product into the shopper's cart. Kendal King Group reaches consumers through shopper marketing and retail activation using in-store displays, signing and events.
To fill those various services, Kendal King Group must be nimble. The company often works alongside in-house brand marketing, but other times it serves as the brand's only marketing team. "We end up playing different roles for different clients," Stephens says.
Kendal King Group prides itself on building custom programs for its clients. The company strives to deliver on speed to market, innovation and nimbleness by leveraging smart sourcing to gain an edge. Depending on a client's program needs, budget and timeline, Kendal King Group is able to leverage suppliers to hit those deadlines and provide a unique retail marketing solution. As it approaches new business opportunities, Hauge says Kendal King often finds itself collaborating with other agencies on one program and then competing against those same businesses on the next job.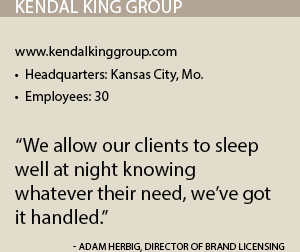 Social Revolution
With DVRs allowing consumers to skip commercials and ad-blockers allowing people to eliminate many internet advertisements entirely, product manufacturers and retailers are looking for more avenues to reach buyers. Kendal King Group's Soapbox Insights + Influence division is finding success in the social space through word of mouth marketing. The company works with online influencers, such as bloggers, vloggers and visual content creators who have built strong personal brands through loyal followers and readers. Those influencers are people who have put a lot of effort into their brands and align only with the products that fit their lifestyles.
Soapbox leverages those influencers to curate content by providing resources and products the bloggers can use to develop a post and get people talking about the item. The company is careful not to tell its influencers what to say – the message is always more effective when it's authentic – but might share challenges or little-known facts related to a product that influencers can mold into messaging their audience will find relevant or interesting. Those readers later see the product at the store and recall what their favorite blogger said about it. "The delivery mechanisms are different but hopefully the result is the same," Stephens says about this new approach to marketing.
The company also works to turn everyday people into product advocates and authentic brand ambassadors. Soapbox talks with groups of opinionated shoppers, such as moms, about what is on their shopping lists, what's in their pantry and what they are making for dinner that night. In some cases, the company even sends someone out to shop alongside individuals to understand the product choices they are making. Soapbox then facilitates turning those influencers into megaphones, allowing them to take product information, share it and amplify it with friends and followers.
The insights created by those experiences also allow Soapbox to yield "aha!" moments for its clients. The company puts brand organizers in front of groups of customers – millennials, for example – and digs into their buying choices. Why this brand of cookie, or why did they buy this device online and not in a store?
Out of those "shopper sessions" can come the nugget of feedback that changes a brand's marketing to reach more people. "If you're not interacting with shoppers you're not going to understand their pain points and be able to act against them," Stephens explains.
In some cases, Kendal King Group has alleviated those pain points by connecting two of its clients. The company's digital demos program was born from its relationship with Ghirardelli Chocolate and Josh Cellars, a premium wine brand produced by California vintner Joseph Carr in honor of his father. In the past, Ghirardelli held Valentine's Day in-store demos that created short-term sales boosts but did not result in the long-term return the company wanted.
Kendal King Group's Soapbox division created an opportunity for a crossover. The company provided product messaging, seasonal prompts and suggested pairings of Ghirardelli chocolate and Josh Cellars wine and engaged influencers, who then touted the combination online and through social media – and drove home the message that both products were available in stores such as Walmart.
"We let them bring it to life," Stephens says. "We put the pieces in place, made it simple for our clients and then we got out of the way." All that positive word of mouth was enhanced in stores with necker labels on wine bottles promoting Ghirardelli Chocolate, and new aisle end caps cross-promoted the products and made it easy for consumers to buy together.
Kendal King Group sees that kind of influencer-led advocacy with in-store follow-up as an important part of retail marketing's future. After years of working behind the scenes, the company is eagerly sharing its success stories with clients and retailers. "I think Kendal King Group has been a well-kept secret for a long time," Hauge says.