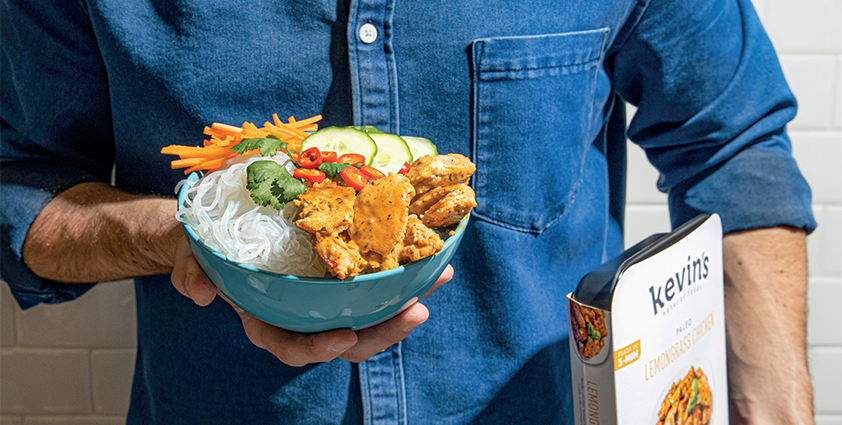 Rooting for healthier diets
Kevin's Natural Foods is passionate about healthy lifestyles, and, with the help of one of the highest trending food diets, the company is dedicated to providing great-tasting meals that support clean eating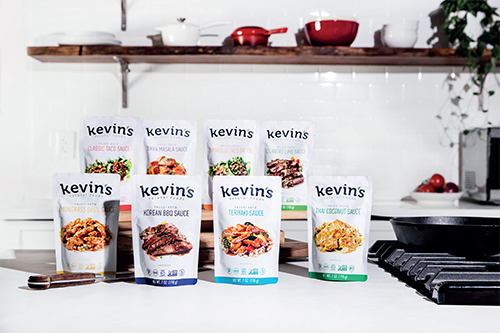 Kevin's Natural Food's journey began when an autoimmune disorder swiftly took over Kevin McCray's life in his early 20s. His incurable illness resulted in frequent trips to the hospital for about five years. "Everything became about trying to mitigate these flare-ups I would have, and it became quite disruptive to my daily routine," Kevin begins. He then came across the Paleo diet. Also known as the Paleolithic diet, the trending lifestyle diet is structured on research that encourages eating the types of foods presumed to have been consumed by early humans. The diet consists mainly of meat, fish, vegetables and fruit, and excludes dairy, grains and processed food. "After incorporating the diet, I had no more stints to the hospital, I was able to ween off all the medication I was on, and in general, the quality of my life improved drastically," he says.
About ten years later, Kevin found himself struggling to juggle marriage, raising children and managing a demanding career, while strictly maintaining his diet to avoid those nasty flare-ups. "It was essential for me to eat a certain way, but I was still having a hard time pulling it off. It made me realize that for folks who don't have as big a reason to change their diet, it was incredibly tricky to just eat clean and adopt good nutrition habits," he says. This difficulty, according to Kevin, is not a result of a lack of information. We all know that leading a healthy lifestyle can decrease the chances of contracting chronic illnesses such as heart disease, diabetes and cancer. The issue really lies in taking time out to ensure a nutritious diet is adhered to, despite the demands of daily life. This is why Kevin's Natural Foods is built around trying to make the journey easier for its customers.
"From the get-go, we wanted to hone in on the center of the plate. When we were developing the brand and products, we would hold focus groups, and we found that one of the biggest problems customers faced was deciding what to cook, and how to cook it. Once you know what your main protein is, the subsequent additions to the plate revolve around that. We felt that we needed to figure out the main ingredient because that's what anchors the whole dinner," he says.
Through rigorous research, the company then put together a product menu packed with healthy, delicious food that was easy for customers to cook at home. "To prepare our items, we investigated many different paths and ultimately, we found sous-vide, which is a process of vacuum-sealing the protein and heating it in water at a very precise temperature. It is the only cooking method that we could find that fully-cooks the food for the consumer, while simultaneously improving the quality.
"It was a big breakthrough for us, and fueled the launch of our protein-based entrées, starting with chicken breast. At this same time, we established the strict trim standards that Kevin's is known for. Our internal motto became "no based bites." It was critical to us that there was no gristle in our entrées. Thanks to these processes, the chicken breast essentially served as the perfect canvas for the wonderful sauces we went on to create.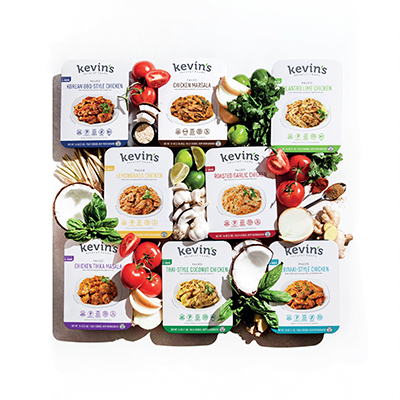 "Ultimately, we developed a line of dinner kits that consisted of a sous-vide meat paired with sauce pouches. At home, the consumer would have the ability to pan-sear the protein and simmer it in a sauce (deglazing the pan with the sauce), which achieved a nice browning on this beautifully tender sous-vide chicken. Thus, our whole cooking method was born," shares Kevin.
The business then expanded this menu of sauces to include cuisines from around the world; Thai-coconut, Korean barbeque, tikka masala, and peppercorn are only samples of the melting pot Kevin's Natural Foods has on offer. "We formulated them to exclude refined sugar, soy and dairy, and we then continued to expand that list. We've added more sauces, more proteins, and we have even been able to launch into vegetables as well," he shares.
To make the menu possible, the company invested substantially in a state-of-the-art production facility, and brought onboard a dedicated team of experts who work closely with customer trends. The combination of these two factors enabled Kevin's Natural Foods to stand apart from other names in the industry. "Our goal from the start, was to create wide-spread dietary change. In order to accomplish this, we needed to deliver our products at a value. With that in mind, we decided early on that we needed to produce the food and source the ingredients ourselves, not only for quality and supply chain transparency, but also to make sure we were watching every single penny in our costs. This would allow our products to be more affordable, and more accessible for consumers to incorporate healthier choices into their busy lives. So, we opened up a warehouse out here in Stockton, California, about an hour from San Francisco, which is a beautiful spot. We are surrounded by agricultural land, and we have a fantastic workforce that is eager and motivated to see the company succeed," Kevin informs us.
We then move on to discuss the company culture, a topic that Kevin feels immensely passionate about. The foundation of Kevin's Natural Foods is built on the mantra of 'humble and hungry' because no matter how quickly the company continues to grow, Kevin wants to ensure that the reason for why it exists in the first place is never forgotten. "We are helping change lives. We look for people who are engaged, and are in it for the right reasons. We try to remain very accessible and are a relatively flat company, because we don't like to have layers of management where those who are actually doing the work can't get to the leadership team for extra support. So, either myself or our CEO, Dan Costa, are at the factory on a daily basis. We also work to get to know our people, and take time to actively show our appreciation for them. For example, we recently celebrated Cinco De Maya and Dan spent all day cooking fajitas for 175 employees.
"So, we have worked to ensure that the people who are physically involved in the process are acknowledged and celebrated at our company. Above that, everybody here is a share-holder, which I think gives everyone an added incentive to be part of the business's growth," he shares.
Our conversation draws to a close on the topic of the future. Looking ahead, Kevin is excited about the opportunities the company is yet to take on, and he shares that these range from the launch of the new Paleo-certified pasta, to reaching broader markets. Each new venture will serve as an attempt to improve the general health of those living in the United States, one dinner plate at a time. "We have the world's first Paleo-certified pasta entrees rolling out here soon, which is very exciting. They are also gluten free, and will be accompanied by a line of Paleo-certified pasta sauces. This is our first foray into the world of pasta, which we think is really exciting, because it's a complete meal, and delivers great value for money. So, we're going to focus in on expanding our menu.
"On a longer-term scale, we would like to be a household name in the sector of culinary short-cuts; the sous-chef for the country, if you will. For anyone who is trying to improve their lifestyle habits and how they prep their meals, we want to be the go-to brand for that. I believe that in order to achieve that, we have to continue to innovate inside our wheelhouse to find creative ways that eases the planning process of making dinner. If we just hang on to that game plan, I feel that we will quickly become a resource for the majority of the folks in the country and, hopefully, beyond," he concludes.
www.kevinsnaturalfoods.com