Key Leagues, New Retail Seminar Scheduled for Sports Licensing and Tailgate Show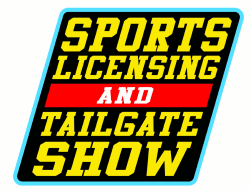 December 19, 2013 – The 2014 edition of the Sports Licensing and Tailgate Show, the premier event for brand owners, licensors, licensees and retailers in the world of sports licensed products, is scheduled for January 16-18, 2014. This year's show is trending towards being one of the largest shows in its history; year-over-year booth sales and pre-registered attendees are pacing higher than in previous years. Show management has confirmed that every major sports team will be represented when the show kicks off this January. Other key exhibitors on the list for 2014 include: AMSCAN, Concept One, Fabrique Innovations, Forever Collectibles, Forty Seven Brand, Fremont Die Consumer Products Inc., G-III Apparel, Great American Products, Hunter Mfg, Little Earth Productions, Rico Industries Inc., Team ProMark, Team Sports America, The Memory Company LLC, The Northwest Co, Upper Deck, VF Licensed Sports Group and WinCraft Inc.
The sports licensing segment continues to grow. Retail sales of licensed merchandise based on sports leagues and events increased 2.2% in the U.S. and Canada in 2012, according to The Licensing Letter. Retail sales of sports-licensed merchandise in 2012 were just over $13 billion, versus $12.79 billion in 2011.
The Sports Licensing and Tailgate Show adds an all new and exclusive retailer seminar to this year's schedule of events. Badged retailers are invited, Friday, January 17, 8:00 – 8:45 a.m., to join Brian Hakan, sports marketing and licensing veteran, while he hosts an in-depth Q&A session with John Sabo, GMM of Fanatics, one of the leading retailers of sports licensed products in the US.
"We're thrilled at the progress of the upcoming show," said Liz Crawford, Show Director for the Sports Licensing and Tailgate Show. "This event has always been a true 'buying' show, and continues to be the top gathering for retailers, licensors and licensees in the world of sports licensed products."
The upcoming show will feature two new exhibitor "zones," designed specifically to group niche categories in one area of the show floor – allowing buyers to tackle that category in a more efficient manner.
FIFA 2014 World Cup Brazil: Celebrating the FIFA World Cup, this designated area of the show floor is exclusively for FIFA licensees to get extra exposure for their brands prior to the World Cup.
The Tailgate Zone: The Tailgate Zone will feature the best products the tailgating industry has to offer – in one area that will be simple to navigate.
The Fashion Zone: From high heel shoes to the technical polo shirt, the most fashionable sports licensed products will make their home in this new zone on the show floor.
"This event always brings quality decision makers from both retail and e-commerce operations." said Wally Gullick, VP Sports Division at Great American Products. "We look to the show annually as a means to showcase our new looks and attain the buyers' critical feedback we need to make sure we are delivering the products and services that will maintain and grow our presence in the marketplace."
Great American Products has exhibited at the show since the inception in 2006 and sees the Sports Licensing and Tailgate Show as an important event from both a sales and forecasting point of view.
The Sports Licensing and Tailgate Show will be held at the Las Vegas Convention Center (South Hall) on January 16-18, 2014.