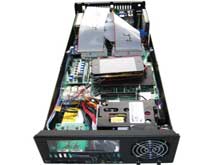 Mobile and Web-based technology continue to evolve, and this organization is working hard to help its clients keep pace. The rapidly increasing availability of broadband Internet access continues to change how people think, live, work, and interact with one another on a daily basis. The e-commerce platform has certainly taken off in the last few years, and the introduction of smart phones has made it easier than ever for consumers to find sales, regardless of the device they're using.
For Keynote Systems, a San Mateo, Calif.-based software-as-a-service (SaaS) provider, this emerging trend translates to significant growth opportunities, and throughout the last few years, the company's team has taken advantage of every one that comes its way. Its team, which consists of approximately 300 employees, is focused on tracking and improving clients' online performance in e-commerce and mobile services. The approach is paying off, as last year the 15-year-old company reported its highest annual revenue to date.
The company first became involved with mobile quality test and measurement just a few years ago, but CEO and Chairman Umang Gupta explained that its presence in the Web world dates further back. "We were one of the first companies to help e-commerce retailers test and measure the quality of service their customers are experiencing. Our network consists of more than 3,000 measurement computers and mobile devices, which are housed in 240 locations throughout the world," he said, explaining the value of the company's global test and measurement infrastructure.
Through these locations, Keynote Systems is able to monitor the speed, reliability, latency, usability, and content relevance of the services its clients offer. This information allows the company's clients to objectively assess their own performance and ultimately improve the quality of their offering.
A world leader
As one of the world's leading providers of on-demand test and measurement products for connected and wireless e-commerce Web sites, Keynote Systems gives its clients the ability to know exactly how their online applications will function before they go live. Tests assess the content and applications of each site and how they perform when accessed through an assortment of different browsers, networks, and mobile devices.
Essentially, every variable is accounted for. It's a tall order, considering the seemingly limitless number of ways people can access the Web nowadays, but with $80.1 million in annual revenue, Keynote Systems has a resource pool significant enough to support the necessary software investments and upgrades. Additionally, its network of measurement computers and mobile devices is the largest in the world.
These assets allow Gupta and his team to develop and introduce new products on an almost continual basis, keeping pace with the always-evolving Web space. The company has introduced a number of products to the market in the last 12 months, including Transaction Perspective 9.0, which was designed to meet the challenges presented by interactive Flash and Silverlight streaming video technologies.
Gupta said screen-sensing technology is the system's primary driver. "Prior to Flash technology, a user had to click on and travel back and forth between pages to navigate a Web site. Now, that's often not the case, so the question becomes: How do you measure and monitor this data?" he said.
"As broadband has continued to become more prevalent, organizations have begun to build various classes of applications into their Web sites, most of which involve interactivity between the site and the user," Gupta added.
Using the screen-sensing technology, Transaction Perspective 9.0 allows Keynote Systems and its clients to accurately measure this data from the perspective of the end user. The program tracks the full variety of interactive Flash features, like hover-over effects, action buttons, drop-down menus and text entry. It also allows them to attain a precise measure of a site's load capacity, which has proven especially important because Flash sites often require more space than traditional pages.
"We are able to do huge load tests from 10 cities across the globe, sometimes reaching up to 1 million views per hour," Gupta said, adding that these tests are crucial to retail giants like Best Buy and Walmart.
Never look back
Keynote Systems is a company that has always relied on innovation and progress, so its emergence into the mobile sector should come as no surprise. The first smart phone was introduced not too long ago, but with all of the major manufacturers quickly jumping on board, an overwhelming number of people rely on their Blackberrys, iPhones, and other devices, and that number will continue to rise steadily throughout 2010.
"In the past, it was too difficult to do much on a phone; the screens were much too small, and the support services really weren't that developed," Gupta explained. "Today, people can do almost anything on their phones, from comparison shopping to restaurant reservations to stock quotes."
To accommodate clients in this space, Keynote Systems introduced Mobile Device Perspective, an on-demand software-as-a-service offering that connects mobile phones with PC agents, allowing the latter to drive the former. This means the automated system can drive the keyboard, scroll through sites, and more, and from there, the data is periodically collected and analyzed.
"There are two reasons people buy our services. Either they want help monitoring the operation of their large systems, or they want to make sure their systems can handle a set amount of traffic before they're launched," Gupta said, breaking down Keynote System's model to its most basic state. "However, a significant amount of retail clients have an additional need, which is to measure the true end-user experience. To accomplish this, you must build technology that mimics what the end user is doing, down to the last element of accuracy. We are unsurpassed in this area."