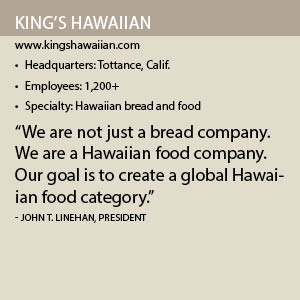 Its barbecue sauces do not contain artificial ingredients, flavorings or preservatives. They are considered a specialty item and can be found in the deli or in-store bakery sections at grocery stores. King's Hawaiian also sells its products at its online store.
The company sells millions of packages of its Hawaiian bread each year, and "the barbecue sauces are the fastest-growing" product, Linehan says. In addition, "one of the segments we'd like to branch out into is breakfast," he adds. "We are developing a spread and we're looking at certain beverages, condiments and some other baked goods."
Hawaiian Week
King's Hawaiian has experienced healthy growth in the past decade. Since 2005, the number of households that buy its brand has increased from 6 million to 40 million. The frequency at which people buy the brand has also increased, from once a year to about four times per year, Linehan notes.
In addition to new products, the company made a splash on both the national and international fronts in the past two years. Last year, it underwent its first foreign expansion when it introduced its products in Chile. On the home front, King's Hawaiian petitioned Congress in 2015 to help create awareness for Hawaiian food.
The U.S. Senate responded by passing a resolution that observes National Hawaiian Food Week beginning on the second Sunday each June. "I hope that in five years, it will be one of the five biggest food holidays of the year," Linehan says.
King's Hawaiian has been working with a number of its retailers on a variety of promotions. "We have worked with some smaller family-owned chains that are willing to be creative and promote Hawaiian recipes in their deli sections," he adds.
Participating retailers have included Lowes Foods, Brookshire Brothers and Hy-Vee supermarkets. Promotions featured recipes for Hawaiian sandwiches, baked salmon with a tropical salsa and pineapple upside down cake.
King's Hawaiian also promotes a variety of recipes on its website including a Hawaiian ham and Swiss slider, mini baked ham sandwiches, King's Hawaiian Famous French Toast, artichoke and spinach dip and southern pulled pork sandwiches.
Aloha Spirit
Founded more than 60 years ago, King's Hawaiian has expanded its product line to include unique breads that are famous for their fluffy texture and sweet taste.
Aside from its original sweet bread, the company's bread is available in honey wheat and savory butter flavors. It comes in a variety of round bread loaves and sliced breads, sandwich buns, deluxe hamburger buns, hot dog buns, mini sub rolls and dinner rolls.
"Our first priority is to make our food irresistible," Linehan says. "It's pretty rare to put something in your mouth and say, 'Wow, that's incredible.' But that's what we do. Our company is passionate and unyielding about quality."
The company is highly committed to integrity and the Aloha Spirit, an expression of caring and sharing that is an essential part of Hawaii's island culture. "We take our company culture seriously," he adds. "Based on the spirit of Aloha, it is about excellence, dignity and telling it like it is but in a way that can be heard."
Linehan attributes much of the company's success to the quality of its products. "There isn't anything like our products," he says. "Our consumer loyalty and engagement scores are equivalent to brands like Apple at its peek. We get over 1,000 calls or emails per month from people telling us how much they love our brand."
Another factor in King's Hawaiian success is its partnerships with retailers. "A lot of people in our industry talk about partnership," Linehan says. "But I don't think many suppliers in our industry have real partnerships, the types with multi-year plans with long-term goals and where price is a minor issue and performance is a major issue."
The company operates four manufacturing plants in California. Its first plant is a 22,000-square-foot facility in Torrance. In 2003, it opened a second, 120,000-square-foot plant in Torrance. As business grew, King's Hawaiian opened two more 120,000-square-foot plants in Oakwood between 2011 and 2015.
On The Rise
Founded in 1950 by Robert Taira, King's Hawaiian is still a family-owned business. Taira, a Hawaiian-born son of Japanese immigrants from Okinawa, opened his first bakeshop, Robert's Bakery, in Hilo, Hawaii, shortly after graduating from baking school. That's where the first soft loaves of Original Recipe King's Hawaiian Sweet Bread were baked.
In 1963, after nearly a decade of growing popularity, the original shop expanded and moved to King Street in Honolulu, where it was renamed King's Bakery. "It didn't take long for the new location to become a popular destination as locals lined up around the block for Robert's famous breads and cakes," the company says.
Due to popular demand, King's Bakery soon started shipping its Original Hawaiian Sweet Bread to the mainland. An entrepreneur at heart, Taira opened a new 24,000-square-foot bakery in Torrance, Calif., in 1977. It was called King's Hawaiian Bakery.
In 1983, Taira opened a family-operated bakery and restaurant in Torrance. The menu included tropical cakes and traditional Hawaiian fare. That same year, King's Hawaiian added a 12-pack of Original Hawaiian Sweet Dinner Rolls to its portfolio, followed by Honey Wheat Round Bread in 1986.
In 2002, the company opened The Local Place Bakery & Café in Torrance. "Hawaii food is a fusion of a variety of different ethnicities and cultures," Linehan says. "It has a lot of Asian influences like Japanese and Chinese but also Portuguese. Most plates in our restaurant have a protein, like chicken or salmon that's Hawaiian flavored, and then two starches and a side of noodles."
While the majority of King's Hawaiian sales are made through its retail outlets, the company is also keeping its eye on trends in e-commerce. "The next big phase in food and beverage online shopping will be click and pick and everybody is scrambling to do this," Linehan says.
Although customers can order from the company's website, it is mainly a vehicle for new products and a way to spread the spirit of Aloha. People can also sign up for the company's Hawaiian club that features recipes, special offers and promotional information about new products and programs.