King's Variety Stores Now Offering Incentive and Rewards for Diabetics Through New Social Media Platform Gluco-Share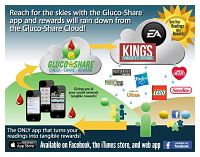 Oct. 7, 2013 – In the fight against diabetes, King's Variety Stores has joined forces with the Madden Family in the launch of the new app Gluco-Share – a social media platform exclusive to aid those living with diabetes through its unique communicative offerings and tangible reward incentives –incentives and rewards that are being provided by Electronic Arts and now King's.
In regards to the rewards, King's now offers over 1,500 items for diabetics to choose from including school supplies, toys, games, crafts, camping supplies, and more. All the users of the app have to do is enter their blood glucose on a regular basis and on-time to be rewarded. King's uses this incentive to encourage diabetics to stay on track. It is not about actual glucose numbers, it is about frequency and creating strong healthy habits. These are habits that King's strongly supports.
King's offers their rewards through Gluco-Share, the first mobile app that offers actual tangible rewards to its users. When a diabetic enters their blood glucose directly or via a wireless meter into Gluco-Share each entry goes toward points and rewards. The rewards are turned into weekly medallions that can then be redeemed online in the form of actual tangible gifts and incentives. The medallions can now be redeemed via King's website or Electronic Arts.