Kipling to Launch New Handbag Collection, Takeover Grand Central Terminal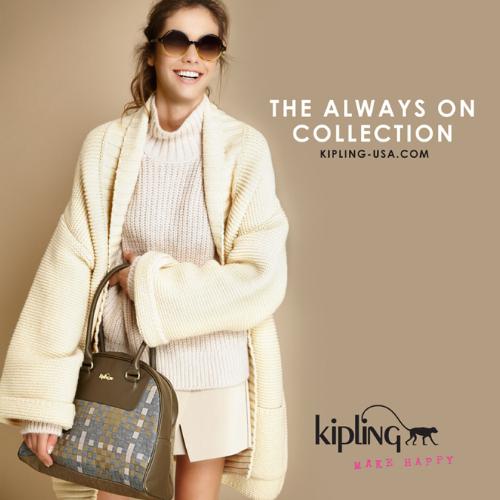 Kipling North America, a division of VF Sportswear, Inc., has announced the launch of its Always On Collection with an interactive, pop-up experience in New York City's Grand Central Terminal on Wednesday, September 17th from 1 to 5pm and Thursday, September 18th from 1 to 7pm. Made with the weekday working to weekend brunching woman in mind, the Always On Collection, which launched on Kipling-USA.com, remains true to Kipling's lightweight and affordable sensibility, but places an emphasis on elevated style.
"Grand Central Terminal is an iconic, bustling space filled with women that are always on the go, which makes it the perfect backdrop for the launch of our Always On Collection. We're so excited to connect with our fans there and introducing Kipling to new ones," said Julie Dimperio, president of Kipling North America.
At the pop-up event, the brand will invite New York City commuters to take a break from their day and partake in exciting giveaways, pampering and fun. Upon entering through an Always On handbag-shaped sculpture, attendees will be offered complimentary manicures with nail artists Naomi Yasuda (IG: @NaomiNailsNYC) and Nails by Mei (IG: @CiaoManhattan2012), on-site massages, and mobile device charging stations.
The space will include an Always On showroom displaying Kipling's newest collection consisting of elevated handbags, totes, clutches and backpacks for the on-the-go woman. The Always On Collection is available now online at Kipling-USA.com, and in Kipling full-price retail stores and select Macy's department stores nationwide.