KISS, Epic Rights Partner Up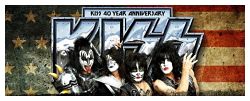 March 25, 2014 – Epic Rights, a full service, global branding, merchandising and rights management company, announced today that it has entered into a multi-year merchandise, licensing, e-commerce and digital media agreement with legendary rock band KISS. Epic Rights is joining forces with Paul Stanley and Gene Simmons to build the KISS global franchise in a highly integrated manner through a combination of touring, music sales, merchandise, licensing, social media and promotional partnerships.
"Epic Rights Founder and CEO Dell Furano has worked with us for over 25 years, and he is the best in the business," said Stanley and Simmons in a joint statement. "We are confident that Dell and his Epic Rights team will lead us to the Promised Land."
"Paul and Gene are definitely the dream team, and it's very exciting to continue to work with them," added Furano. "The bottom line is that we are looking to grow the KISS brand and generate substantially increased revenue. Loyal KISS fans are now beginning to introduce their teens to the band, spawning an entire new generation of ardent KISS lovers."
In addition to full branding, marketing and licensing services, Epic Rights will provide full service music merchandising, including concert merchandise, retail/licensing, VIP ticketing, fan experiences as well as managing music artists' official websites, online shops and social media.