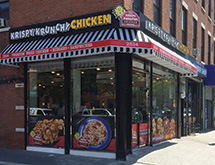 Picture yourself on a road trip across the country. You pull off the highway and stop for gas at a Citgo. When you go in to pay, suddenly the zesty smell of Cajun chicken fills your nose. You weren't expecting to buy chicken at the gas station's convenience store, but the tantalizing display of chicken and buttery biscuits is too irresistible. And that is Krispy Krunchy Chicken's goal.
"We believe that 50 percent of our volume comes from people walking into a convenience store with no intention of eating," Executive Vice President Dan Shapiro says. "We try to merchandise it so that he sees it, he smells it and it looks great. And all of the sudden, he realizes he's hungry."
Neal Onebane, president and founder of Krispy Krunchy Chicken, purchased a chicken program from an old time convenience store chicken supplier in 1989. But he wanted to master the merchandising of it. Taking inspiration from how Popeye's Chicken displays its product, he developed a hot food case with grates at the top to better display his new chicken product rather than having it rest inside pans.
"He designed, built and marketed his hot food case, along with the chicken program, before he was even making any money," Shapiro says. "It's part of our success rate. It's part of that visual image."
Once his proprietary hot food case proved successful, he branched out into convenience stores across the United States. The company now has more than 1,800 Krispy Krunchy locations in 36 states.
When Shapiro first got involved, there were only about 150 locations across Louisiana that carried the chicken. He explains that it had a "cult following." He was running a small chain of convenience stores throughout Kansas and Missouri. In one of his locations, he had a vacant kitchen and thought Krispy Krunchy could be a great addition to the business. He and Onebane brokered a deal to expand the rights to Kansas and Missouri. Shapiro officially joined the company in 2006.
After Krispy Krunchy went national in 2006, its growth exploded. Now revenue grows 40 percent every year and the company will be opening about 600 new locations in 2015. "We're moving so fast that we need to slow down a bit," Shapiro says, laughing.
But they can't slow down because now Onebane and Shapiro are taking Krispy Krunchy international, planning to open locations in Malaysia, Indonesia, the Philippines and Sri Lanka.
"We think that we are going to open Malaysia first and open the first 10 to 15 locations there by the end of this year," Shapiro says. "There are challenges definitely, but we think that's really exciting. Neal and I were greeted with open arms when we went over there and we think it's going to be very possible to do."
Franchise Free, Royalty Free
Krispy Krunchy is not a franchise and doesn't receive any fees or royalties from its products. The company takes its proprietary items and sells it to the distributors at a profit. Instead of collecting franchise fees from 1,800 locations, it simply collects profits from its 35 distributors.
The company doesn't do contracts, either. "We have a one-page letter of understanding that says you do this and we'll do that," Shapiro explains. "You agree to buy the stuff and do it the way we trained you. You can quit at any time; you just have to take down our graphics. This makes distributors and convenience store operators feel more comfortable signing up with us. But we don't have a lot of people quit because it's a good program," he says.
Tyson is Krispy Krunchy's exclusive provider of chicken, providing 750,000 pounds of chicken to its various locations every week. The chicken is special because of its distinct flavor profile, which sets it apart from the competition. The chicken is needle-injected with a mild Cajun marinade at the plant. Then, Tyson ships the chicken across the nation.
"Tyson has been great to work with and extremely helpful as we've grown," Shapiro says. "Whenever we open a new market, we don't open it with a ton of stores. There's not going to be a lot of chicken on that truck until we develop that market. So Tyson has been really great in figuring out how to get the chicken to those areas."
But Krispy Krunchy isn't all about chicken. Badia provides spices, CH Gunther provides frozen, uncooked biscuits and 35 other suppliers provide paper goods, red beans and rice, mac and cheese, jambalaya and much more to the company's logistics vendor, International Traders Inc.
First-Class Products
Shapiro describes everything Krispy Krunchy does as first class. Although the company is not a franchise, it looks like one because of its excellent marketing of the retail environment and extensive training program for new convenience store locations. It also offers a lot of retraining programs as needed at no cost to the store operators. Soon the company will roll out training videos for cooking chicken and preparing biscuits to simplify the process.
"The cooking procedures, training, the marinade – all of that really contributes to the fact that we think our food is better," he says. "We really take a lot of pride in our food."
Because the company has grown so rapidly, one of the challenges it faces is ensuring that existing locations get the same kind of attention as new ones. But the company is addressing that this year by hiring more brand managers to continue the training procedures and assist with any issues.
Onebane and Shapiro may run the company, but they've turned it into an entrepreneurial operation. Onebane develops and delegates Krispy Krunchy's overall strategy, while Shapiro deals with day-to-day operations. They push the rest of the responsibility down and allow everyone in the different markets and the marketing partners to control their own destiny in a structured manner.
"It took an awful lot of guts to do some of the stuff that Neal did when Krispy Krunchy first started," Shapiro says. "I remind all of our people of that. He took a lot of chances and I'm always amazed by the way he developed this company."