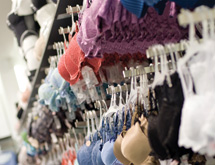 Finding a bra that fits perfectly is invaluable to a woman's intimate collection. When perfection is found, the thought of losing it is frightening and Canada-based lingerie retailer La Vie en Rose understands that – which is why its most popular bras are never out of stock.
"Our main product is bras; that is what we are known for," Vice President of Design and Product Development John Izzo says. "Women are loyal to bras when they find a good fit, they will come back to us. We keep our best sellers on our shelves at all times." The company is known as the "bra specialists" because of its commitment to helping women wear the correct size. To honor that promise, bra clinics are held multiple times per year and private fittings are offered in the dressing rooms. "We make a big effort to give personalized service to customers," Izzo says. "That's what differentiates us, all our staff are trained on how to fit women for a bra. It's something customers appreciate."
When La Vie en Rose was founded in 1985, it was perceived to be what Izzo calls the "Canadian Victoria's Secret." At the time the company wasn't selling private-label bras, but the same products as department stores and without being able to offer the same promotions and sales. This eventually led to the previous owner selling the company to Francois Roberge in 1996. "He saw the opportunity there to take over the company and turn it around," Izzo says. "The big difference was, we started introducing our own private label."
Roberge still owns the company. La Vie en Rose created its line of products with manufacturers in China where the items are still made today. All the designs and product developments are completed in Montreal. La Vie en Rose grew from 23 to more than 165 corporate stores and more than 75 franchise boutiques worldwide, most of which are located in the Middle East.
Mass-Produced vs. Unique
Noting its similarities to Victoria's Secret, Izzo says when the world-renowned chain opened stores in Canada three years ago, La Vie en Rose was initially greatly concerned about the competition. Traffic was decreased in stores, but Izzo says, Canadian women came back to them. "Women understand now the same amount of money goes further in one of our boutiques," Izzo says. "We don't have 'angels' but we know Canadian women coast to coast."
What Canadian women want is to differentiate their style from women in the United States and Europe, Izzo explains. La Vie en Rose swimwear offers its own private label of bras, panties, lingerie, sleep and lounge wear and swimwear to keep the women of Canada in a style all their own. "A lot of Canadian women go south for the winter and it's like going to the prom," Izzo explains. "When they go to the beach they want swimwear that looks different from everyone else. If they are wearing La Vie en Rose Aqua [swimwear], it's going to be different – it is only sold in our boutiques."
Because La Vie en Rose strives for uniqueness, customer service is a main focus of the business. At large department stores, customers get lost among the many other customers and rarely interact with a sales associate, Izzo explains. At La Vie en Rose, the storefronts are more intimate with only 2,142 square feet and associates can greet customers immediately to offer personal service. "You don't get that special attention [at department stores]," Izzo says. "We make a big effort to give personalized service to customers. Our stores are small enough so you get the personal service and boutique atmosphere."
Roses of Hope Foundation
Many businesses stress the importance of customer loyalty but La Vie en Rose went above and beyond to show loyalty to its customers in 2010. Three years ago the company launched La Vie en Rose Muse™ – a collection of post-mastectomy bras that were inspired by one of its customers, Louise. She was diagnosed with breast cancer and had a double mastectomy. Louise struggled to find a bra that made her feel feminine and didn't look like it was a hospital-issued garment. She had shopped at La Vie En Rose for years and went to Izzo to help her find a solution. "This is one of the projects I worked on that I am most proud of," Izzo says.
Louise was the muse for the collection. A prototype bra was created to fit her and Izzo says Louise responded with tears of happiness. "That was such a touching moment to see the joy we were able to provide for her," Izzo remembers. She was to be the spokesperson and model for the collection of post-mastectomy bras but her cancer returned more aggressively and Louise died while Izzo was finalizing designs in China. He chose to name the collection "Muse" as a dedication to her.
The La Vie en Rose Muse collection is made from the same fabric and materials as the company's signature collection. An assortment of sizes, shapes, colors and prints are available on the website, www.lavieenrose.com, or in numerous stores throughout Canada. Most of the La Vie en Rose Muse collection is located in stores near hospitals and breast cancer clinics, Izzo says.
"We make sure an associate who has had training on how to sell this bra is in the stores these are sold," Izzo says. "It's a different approach than our regular bras. Doctors and nurses have helped us with bra development and customer service. We want to create the right environment. It can be very emotional sometimes."
About 5,000 La Vie en Rose Muse bras will be donated over the next 18 months. "It's not a money-maker for us; it's not going to make us rich," Izzo says. "We are doing this with so much love and because we know we are making women feel good."