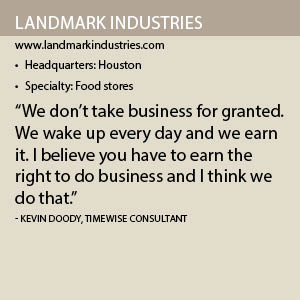 "We don't take business for granted," says Kevin Doody, a consultant for the Timewise brand. "We wake up every day and we earn it. I believe you have to earn the right to do business and I think we do that. We call it the Timewise Way."
Landmark also is a leading wholesale petroleum distributor of Shell, Chevron, Exxon, Mobil and Texaco branded products to independent convenience store and grocery store operators in the Texas marketplace. But its Timewise convenience stores have been a staple in the Lone Star state since 1982 when the first Timewise Food Store opened in Hempstead.
Earning Business
Cleanliness, convenience and courtesy are key words for Landmark. The company is adamant that its stores adhere to its cleanliness policy. It stresses fast and friendly customer service and believes it sells food at reasonable prices. In a nutshell, the company's culture focuses on the consumer.
"We really believe that the customer owns the store," Doody says. "We are the caretakers of the stores. It's our job to make sure they are clean and operate correctly, to look after them."
Timewise stores are also known for a variety of ongoing promotions or "wise buys" and accept most manufacturer coupons. Many consumers are also attracted to Timewise merchandise, which features many national brands. "You will see quality," Doody says. "We buy quality sites and build quality stores and we maintain them. The stores we built a decade ago look like they were built yesterday."
Landmark has a program in place for maintaining its stores. "The logistics of upgrading each location can get a little hectic," Dujka says. "But we prioritize our locations to keep them up to date. It's an ongoing program."
A typical Timewise store ranges between 5,000 and 5,500 square feet. About 10 years ago, Landmark acquired a number of Shell gas stations in Texas. "We rebuilt a lot of those locations converting them from 2,000 square feet to 5,000 and we made them more modern," Dujka says.
Cup of Excellence
To differentiate its convenience stores from competitors, Landmark places heavy emphasis on offering higher-quality food and coffee. "We shy away from the prepared food programs," Dujka says.
Instead of prepared foods, Timewise stores offer pre-packaged sandwiches and foods from a roller grill such as hotdogs, sausages, chicken and certain breakfast items.
Over the course of the past six months, coffee bars inside Timewise stores underwent major upgrades. They included new counters, equipment and TV screens. In addition, all Timewise stores now offer Royal Cup Coffee, a Birmingham-based full-service coffee distributor that sources its beans throughout Central and South America.
"They maintain the equipment, bring the coffee and the cups into our stores and work closely with our buyers to determine what we brew and at what price," Doody says. "You give up a little profit margin to have this, but it's worth it because they are professionals. They service some of the best hotels in the world."
Many convenience stores buy their coffee wholesale and own their equipment. If the machines and coffee bar are not maintained, it can lead to inconsistency in the coffee flavor as well as an unpleasant experience for the customer.
"With Royal Cup Coffee, you end up with a consistent delivery of the product every day and in every store," Dujka says. "We deliver the best cup of coffee out there for a convenience store."
Consistency and Training
From the way the store looks to how its employees are trained, consistency is imperative. All Timewise stores share a similar aesthetic. Lighting, displays, products and color schemes are consistent across the board.
In addition, Landmark last year adopted a module-training program for its Timewise employees. "It all starts with training," Dujka says. "Our module training program is a consistent approach. Everyone goes through the same process."
The program includes operational checklists and identical training pamphlets. The company also sends mystery shoppers into its stores to evaluate quality of service. Landmark has also made significant investments into new technology in recent years. That includes scanning technology, POS systems and surveillance and security.
Although the company does not focus on social media to promote itself, it has made efforts to communicate with the next-generation consumer. Two years ago, it launched a Timewise APP that offers an easy way for Texans to find its gas stations, convenience stores and car washes, and gives them access to coupons and specials.
"We are not driven by social media. It's not the heart and soul of how we do business," Doody says. "We do business in a personal way. We are more about being social than about social media." However, Dujka adds that social media will likely become a bigger part of the company's marketing strategy in the future.
Hometown Team
Landmark prides itself on being a hands-on and family-orientated business. Marshall Dujka, Steve Dujka, Robert Duff and Kent Brotherton have been partners for more than three decades. "It sort of sets us a apart from the big guys," Marshall Dujka says. "We consider ourselves the hometown team."
Last year, the company partnered with the Houston Astros baseball team to launch a marketing and advertising campaign. Landmark's three-year contract means that the company will advertise in the team's stadium and feature the Astros on its fountain drinks.
In addition, Landmark places heavy emphasis on charity and giving back to the communities it servers. In 2012, the company established Landmark Charities to support a variety of nonprofit organizations located in territories where it markets its products and services.
Landmark Charities funds select groups and organizations through special fundraising projects at its Timewise convenience stores and by hosting events in coordination with a variety of vendor partners.
It has raised funds for The Westview School, a nonprofit school for children with autism in Houston. Other local groups and organizations that Landmark supports include the University of Texas Medical School at Houston, Children's Miracle Network and the Muscular Dystrophy Association.
To date, the company has donated more than $1 million to charitable causes and plans to increase its donations through Landmark Charities in the future. The charity is limited to locations throughout Texas where Landmark operates.