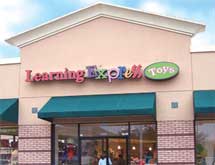 Before the age of mommy bloggers, there was Sharon DiMinico. A mother for the first time at age 38, DiMinico was careful to select the right toys for her children, paying special attention to the educational aspect of each toy and the importance of connecting the right toy to the right child.
She quickly noticed there weren't any toy stores near her Groton, Mass. home that offered the kinds of toys she and her fellow parents wanted. The majority of her own children's toys, for example, were ordered through catalogues. "It was almost impossible to find development-oriented toys," she said. "Building blocks, for example, are a cornerstone of a child's development, but I could only find mass merchant toys in local stores."
DiMinico had owned a contracting business with a strong retail component when she was in her 20s and already had experience as a business owner. Need and experience merged together, and she began looking at opening an educational toy store in Needham, Mass.
But when, as president of her children's nursery school, Groton Community, she became privy to their financial situation, she saw a greater opportunity. "I knew immediately that the school needed more than the benefits of the fundraising projects it would do on a monthly basis," DiMinico said.
"I presented my business plan to the board in January 1987 and said I would be happy to start this business for them and help run it for four to five months. I hadn't even opened my first store yet, but they believed in it." DiMinico remortgaged the school building, and with more than $60,000 in hand (including a bit of her own money), she went to the Toy Fair that February. In March, she opened the first Learning Express in Acton, Mass.
Turn it around
For the next four months, DiMinico ran Learning Express, which is targeted to children from birth to age eight, with the help of volunteer parents. Eventually, she hired a manager and additional staff, but in between opening the first store and her own store in Needham, she read an article in Inc. on franchising and that turned everything around.
"I knew that with a young family I wouldn't be able to open several stores," said DiMinico, founder, president, and CEO of Learning Express, "so franchising seemed like an ideal opportunity. From my experience writing the operations manual for the first store, I realized as I read the article that franchising made perfect sense."
By the end of 2010, Learning Express will have 152 stores nationwide, and all are franchised locations, including the Needham location that DiMinico sold in 1993 (shortly thereafter, the Groton Community School sold its piece of the business as well).
The company's 23 years of success, said DiMinico, come from the basic tenets of a franchise structure—having owner-operators running locations with employees doing more than just clerking a purchase.
"Our franchisees learn what their customers are looking for and can respond to their individual markets," she said. "Few large chain retailers can offer that level of personalization; for most, it's a one-size-fits-all concept. That doesn't work for what we're doing."
Socially significant
Even today, Learning Express continues to differentiate itself from other toy retailers through its product assortment. The company employs three buyers who attend toy fairs, gift shows, book fairs, museum shows, and stationary shows to make sure the company stocks the latest and greatest in developmental learning.
With a robust intranet and e-mail system, the company keeps its managers and franchisees in the loop about what to stock: high volume items, what sells the fastest, and what offers the best margin dollars.
The franchise business model also comes into play when opening a new location. "We set up new stores with an initial inventory, which prevents a lot of mistakes in ordering," said DiMinico. "Based on our analysis, we already know what's selling, so we place the first order, but franchisees can order outside that list after grand opening. We want them to respond to their market."
Learning Express doesn't just throw new owners into the fray and expect perfect results after opening the doors to their stores, however. Franchisees go through an eight-day classroom course before opening their stores. The company's corporate team then shows up when the store inventory arrives and stays for the next four weeks to help set up shop. The team comes back for 45- and 90-day reviews to make sure everything is going as planned.
"We train the franchisees on buying, marketing, merchandising, store operations, and finance. We also focus on hiring, training, and what to look for in full- and part-time candidates," DiMinico said. "We don't want people working in our stores who are satisfied just standing behind the register. It's a socially significant business, and we expect every employee in every store to be professional, even if they're high school kids."
Biggest difference
By the end of December, Learning Express will have opened 16 new locations this year. For most retailers, this kind of growth would be too rapid. But Learning Express divides its footprint into five territories, each managed by a regional developer. The corporate office develops the balance of the country.
Most new franchisees are people who have visited one of the stores and are interested in becoming part of the Learning Express family of storeowners. "It's amazing how many of our new people come through our existing storeowners," said DiMinico. "We also have current owners opening second and third stores."
And it's not as though there isn't marketshare to gain. In the past few years, a number of toy companies such as Learning Smith, KB Toys, Zany Brainy, and Noodle Kadoodle went out of business.
But the real secret of Learning Express' success comes back to its stellar product assortment. Each store merchandises by age from birth to five years old, and then by interest for kids aged five through 12. Its reputation has grown in the toy industry, and manufacturers often approach the company to offer exclusive distribution or for an opinion about a toy that's still in development.
"We differentiate ourselves through our product mix," DiMinico said. "Although we try to carry the absolute best of all of the different developmental toys in each age group and category, we offer many products not often found in toy stores: personalized products where we hand-draw a design and add a child's name, jewelry and other fashion accessories, and stationery items. Ironically, many of these have turned out to be our best sellers!"