"We have everything somebody needs because of our broad selection of products," CEO Mark Griffin explains. "We have large pharmacies and our second-largest division is lawn and garden, but we have so much more with a lot of basics and name-brand items. With everything we offer, we can compete with Home Depot, Walgreens, grocery stores, CVS, Target and other drug stores. We have evolved the business tremendously and we have become highly promotional, which helps us. Digital advertising also is a big part of our business, and while many drug stores aren't into that, we jumped in with both feet."
In addition to its selection and promotions, Lewis Stores is dedicated to convenience and service. The company demonstrates these values, Griffin says, with quality parking lots, the locations of its stores, throughput of stores and drive-throughs at many of its stores. Lewis Stores also offers an app for customers to manage pharmacy refills and a pill pack concept, which makes taking prescriptions easier for customers.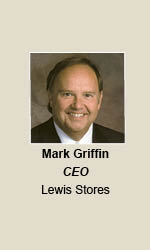 "We think a lot about how to compete with the internet threat, and we're doing that by offering the total package," he stresses. "If we can present this high level of convenience as part of our total package, it keeps us really competitive. We think about things that need to be available to our customers, and we provide them in a convenient fashion. Additionally, we are very familiar with our customers because we live in the markets where we operate. That is a big part of our success."
'A Great Team'
Lewis Stores is well known in its communities because the company has been in operation since 1942. It was established in South Dakota by Jesse Lewis and George Fredrickson, while John Griffin was the store manager. It was one of the area's first self-service drugstores where over-the-counter pharmaceutical items were available. By 1944, Lewis had left the business, but his name on the stores remained. Fredrickson and Griffin continued the operation's growth with new locations and expanding those locations as the product offering grew. Mark Griffin is the family's second-generation owner of the business.
"We have been blessed with a great team of great people," Griffin says. "We enjoy the fact that the company has remained private, although we do have a healthcare partner that has some ownership in our smaller stores. But we have been able to grow at a moderate, safe pace over the years and serve our markets well without public ownership constraints, of which we are proud."
He notes Lewis Stores' team is the key aspect of its ability to remain competitive. "Probably the most important part of our culture is that we take care of our team of people, and they take care of our guests," he says. "That's just who we are. If a customer approaches one of our pharmacies, they will be greeted. If they have questions, the pharmacist is immediately available to serve them at eye level. Our customers love the access they get to our people, and the eye contact is part of that. Our team takes time to talk to our guests. Most chains would consider that to be inefficient, but we consider it a priority. We want to make our professionals as accessible as possible, and that is another one of our success stories."
Lewis Stores plans to get into more communities, and it recently purchased six ShopKo pharmacy assets, which it integrated into the overall operation earlier this year. The company has a number of other plans to add to its business, while remaining true to its team of people and communities.
"I look at our team and see the way they do business and conduct themselves at a professional level," Griffin says. "It is great to work alongside them. Anyone can talk the talk, but we can walk the walk, as well. This enables us to compete in a highly challenging chain drugstore market."