Liberty Petroleum Distributors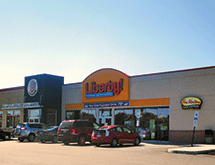 Where Liberty Petroleum Distributors sees a need, it fills it. Since 1988 when it opened its first travel plaza, the company has continued to hone its skill in matching the right developments with the right locations. It started with one location in Tunkhannock, Pa., and now operates 23 locations across the state, with another on its way. Liberty caters to the motoring public traveling through Northeast Pennsylvania with travel plazas, convenience stores, tobacco stores and restaurants, such as Subway, Burger King and Tim Hortons.
Gerald Danniel, who has been at the company for 10 years working his way up from a customer service associate position to become the COO, says the company has moved the ball forward year by year, growing its presence via the number and types of locations.
"In 2004 when I joined the company we had 12 locations and now we will have 24 by the end of the year," Danniel says. "We've also moved into different areas, for instance we are in the hospitality business now. Back when I joined we were just gas stations, convenience stores and truck stops. We have been on an aggressive growth pattern."
Into New Cities
The company just opened up a new travel plaza and Burger King in Tannersville, Pa., which sits on a well-traveled route leading to the Poconos. Now it is working on its second hotel project, a Fairfield Inn & Suites by Marriott which will open in early 2015. The hotel marks Liberty Petroleum's foray back into the hospitality business after it opened a Holiday Inn Express in Gibson, Pa., in 2005. The Holiday Inn Express offers amenities such as a heated indoor pool, a 24-hour fitness center, business center and the complimentary Hot Express Start Breakfast for which Holiday Inn is known. The hotel is managed by Liberty Petroleum's affiliate Singh Realty LLC, which will also manage the new Fairfield Inn currently under construction. Danniel says the project will be located in Bartonsville, Pa., which, with its proximity to New York City and Pocono area waterpark and ski resort attractions, is a prime location for a new hotel development.
Danniel says the company wants to continue growing in the hospitality sector, but will do so cautiously.
"We've been in the travel plaza business since 1988 and now in the hotel business since 2005," Danniel says. "Hotels are something we're looking to do more of but they are more capital intensive so unless we are 100 percent sure with the research, we are not going to just go in and build a hotel. We do have another hotel location in mind but are not disclosing this yet."
As the company continues to get its feet wet in hospitality, Liberty is also expanding its footprint in the travel center arena for which it has become known. It will soon open a new travel center in Duncannon, Pa., complete with a travel plaza and Burger King restaurant. Danniel says the project is located off a busy stretch of routes 11 and 15 and that there are no other fast food locations in the market, making it a prime spot for a fast food development for the many motorists and truckers traveling through the area. Also in the pipeline for Liberty are plazas in Wilkes-Barre and Blakely, Pa. The company recently purchased land in both cities and is in the permitting stage of construction.
Continuous Improvement and Core Values
Liberty is also improving its existing locations. They recently upgraded the pumps at many locations to include LED Screens so customers can catch the latest weather and news while filling up their tanks. They are also looking into adding Diesel Exhaust Fluid (DEF) at all diesel islands for added convenience to the professional driver. Danniel says that although Liberty Petroleum is a small company, it has always been heavy into technology and amenities that will improve the customer experience.
"We have always wanted our Liberty locations to be like a one-stop shopping experience," he says. "From the beginning, we have strived to provide our customers a clean atmosphere that's fast, fresh and friendly with affordable products and attentive associates. If we can do that, we will be successful. That is a core belief at Liberty and will never change. Our employees and the way in which they take care of our customers make this belief reality every day. When we started in 1988, we just had one small mom-and-pop location. Many employees and customers knew each other by name. Now, we have 23 modern locations with the latest technologies and our employees and customers still know each other by name. We're a growing company so it's an exciting time to be here."