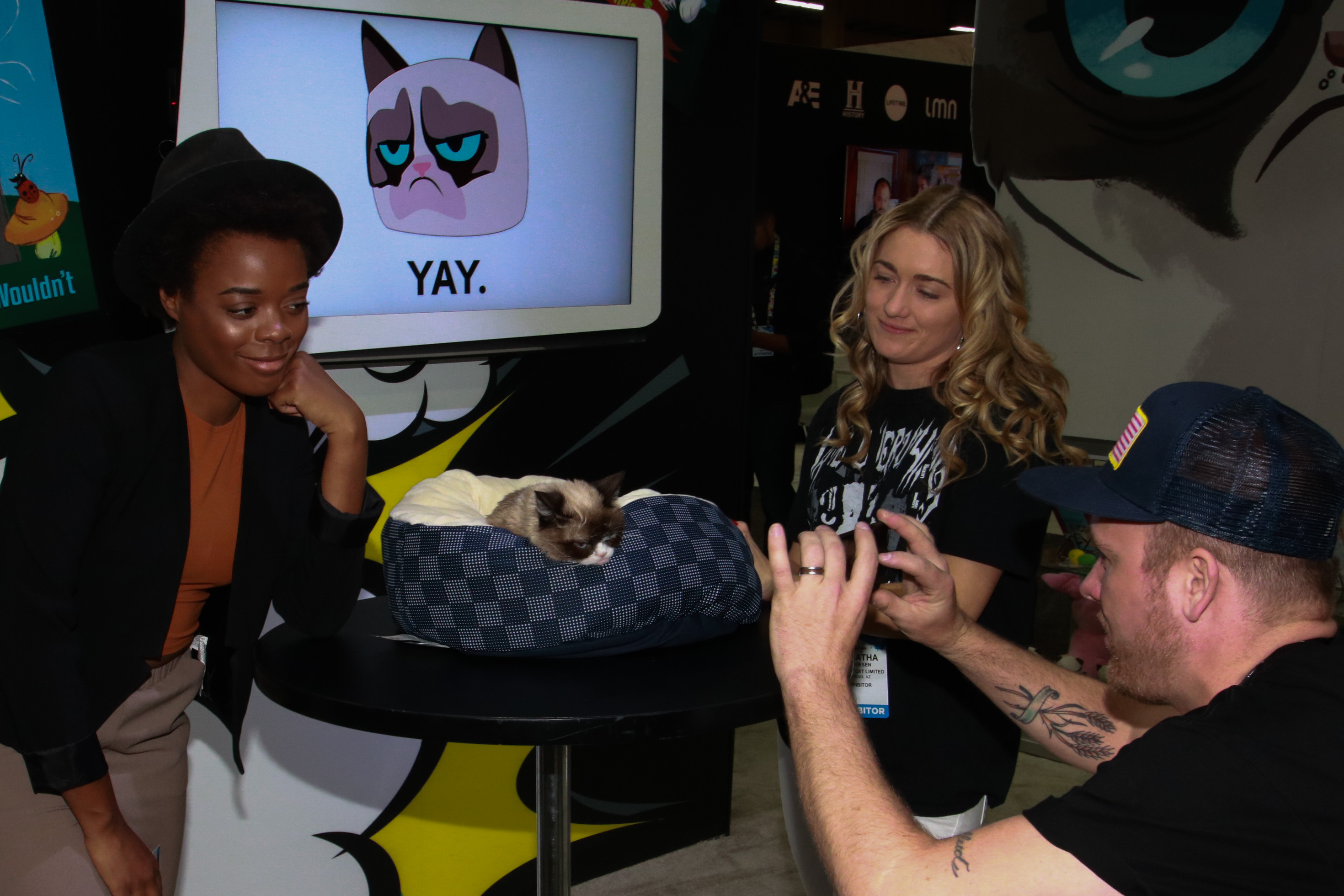 Licensing Expo goes 'back to the drawing board' to create
an even more dynamic and productive event in 2018.
Licensing Expo is the world's largest and most influential brand licensing industry event. It will take place May 22 to 24 at the Mandalay Bay Convention Center in Las Vegas.
This year's event will feature the second edition of Licensing Week, which will run from May 21 to 24. Licensing Week incorporates all events surrounding Licensing Expo into one jam-packed schedule. Highlights include the opening night party, Licensing Expo keynote, Licensing University, LIMA Awards, entertainment showcases and other networking events.
What follows is a Q&A with Jessica Blue, senior vice president of Global Licensing Group, a tradeshow organizer and media partner for the licensing industry. (The photo at the top is of participants at Licensing Expo 2017.)
Retail Merchandiser: Tell us what will be new at Licensing Expo 2018.
Jessica Blue: We went back to the drawing board this year to refresh the layout of the show floor. We're welcoming an entire class of new exhibitors and properties to Licensing Expo this year and will have the most vibrant floor yet.
As the industry grows, more and more brands are embracing licensing. Some of the new brands and properties that will be joining us for the first time include Country Music Association, Gearbox Software, Major League Baseball Players Association, Members Only, Penguin Random House, Spin Master, Swissbrand, Tetris, TOHO (Godzilla), U.S. Marine Corps and Warner Music Artist Services.
RM: How does Licensing Expo promote innovation?
JB: New to Licensing Expo 2018 is VIBE from InventHelp, the Virtual Invention Browsing Experience. This interactive experience connects enterprise brand owners and manufacturers with forward-thinking inventors bringing innovative products to market.
Using a state-of-the-art virtual viewing station, it allows companies to privately view ideas from InventHelp clients on large, interactive 3-D touchscreens. InventHelp will also offer their services to attendees who might have inventions themselves. VIBE will be available to exhibitors on Monday, before the show opens, so they can utilize the service. Attendees will have access to VIBE Tuesday through Thursday.
RM: What will be some of the opportunities for networking?
JB: One of our most popular services, Matchmaking Service, will return this year. It is the official one-to-one business networking tool for exhibitors and attendees at Licensing Expo that allows potential partners to schedule meetings before they get to the show.
Matchmaking was a huge success in 2017, with more than 3,800 meetings scheduled prior to Licensing Expo – an increase of more than 1,200 meetings from 2016. And this year, we're already tracking ahead!
RM: What about educational opportunities?
JB: Hosted by LIMA (Licensing Industry Merchandisers' Association), Licensing University is the best place to build brand licensing skills and expertise. Licensing University will feature "basics" programming for industry newcomers, a full slate of "up close and personal" roundtable sessions, countless sessions on the latest trends in the licensing industry, and advanced sessions covering international licensing and how AR/VR technologies will affect licensing and piracy issues in the industry.
To attend, you'll need to purchase a Licensing University Pass ($195 for non-LIMA members) that gives you access to all sessions.
RM: How will Licensing Expo 2018 kick off?
JB: At this year's opening night party, we're celebrating the 20th anniversary of License Global magazine. Thus, attendees should get ready to party like it's 1998!
Based on feedback from our attendees, we've implemented changes to make the opening night party better than ever before to foster more networking. The party will feature smaller activations and entertainment, which will pave the way for easier conversations and better connections. We're also switching up the location and hosting the opening night party at the Mandalay Bay Convention Center, immediately following the LIMA Awards.
RM: How will the expo recognize licensing industry leaders?
JB: The LIMA Licensing Awards program recognizes outstanding performance across a range of categories throughout the global licensing industry, and this year there were a record-breaking 700 submissions! The awards will be given out on Tuesday, May 22, at the LIMA awards ceremony.