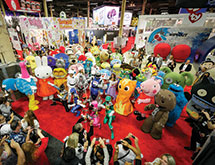 Recognizable brand names such as Disney and Coca-Cola remain popular among consumers and often generate a higher price point than generic goods.
The licensing industry continues to grow and licensed products are driving retail sales as consumers demand more of their favorite brands. In fact, the licensing industry now accounts for an estimated $251.8 billion in retail sales globally each year.
As retailers, it is important to stay connected to the ever-growing licensing industry and upcoming trends to ensure your store is filled with the latest products and brands consumers are looking for.
Licensing Expo serves the global licensing industry – as the world's largest and most influential trade show dedicated to licensing and brand extension. For three days, this June in Las Vegas, 15,700 retailers, licensees, manufacturers and advertising agents come together from more than 90 countries to:
•Hear the future brand strategies direct from brand and property owners;
•See what brands are being launched ready for stores in the next 18-24 months;
•Find exclusive licensed products for your stores;
•Compare the hottest fashion, movie, TV, sports and consumer brands that your consumers will be demanding for 2016/2017;
•Ink direct-to-retail (DTR) deals with brand owners.
More than 5,000 brands from all product categories are showcased at Licensing Expo – from candy to cars, food to fashion, music to movies, TV to toys and everything in between. No matter the category, a visit to Licensing Expo will help your business decisions and strategy, now and in the future.
Retail attendance continues to grow at Licensing Expo – in 2014 retail attendance increased by 34 percent, with a 53 percent rise in online retailers and a 41 percent increase in international retailers. Retailers that attended included: amazon.com, Best Buy, Target, Tesco, Pottery Barn, Walmart, H&M, Wet Seal, Williams-Sonoma and Forever 21.
In addition to connecting with top brand owners and agents like AwesomenessTV, Nintendo of America, Inc., NFL Players Inc., Crocs, Mattel Inc., Coca-Cola and Grumpy Cat, Expo attendees can enhance their show experience through the networking & education opportunities offered.
Hear from industry experts at 30 educational sessions at Licensing University, sponsored by LIMA. Industry experts from Toys'R'Us, Global Brands Group, Delivery Agent and Hot Topic will deliver the opening keynote panel.
This year, Licensing University includes two new features: Roundtable Discussions – an intimate 30 minute setting to review the industry's hottest topics and The Digital Media Licensing Summit – seminars from the world's most popular digital media companies and stars. The keynotes and the Digital Media Licensing Summit are free to attend, while you can purchase an All-Access Pass to attend any of the Licensing University seminars and the Roundtable Discussions.
Adding to the opening day buzz is the most talked about party in licensing, which takes place June 9 at the Mandalay Bay Beach. The All-Industry Opening Night Party, in association with Endemol, co-hosted by Sony Music and sponsored by LIMA, will be attended by 2,000 industry professionals. Network with friends and colleagues, enjoy an open bar and dance in the sand to an unforgettable live performance by Fifth Harmony.
Throughout Licensing Expo, retailers will have access to the Retailer Lounge – located in the Brands & Agents zone on the show floor. Escape the bustling show floor to meet with colleagues and enjoy complimentary refreshments.
Licensing Expo only happens once a year, this June in Las Vegas. Don't miss out on the business and the buzz. For more information and free attendee registration, visit www.licensingexpo.com.