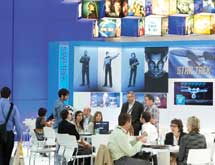 Over recent decades, licensing has expanded rapidly as a critical marketing tool, helping brand managers across many consumer product categories to understand that licensing is an effective communications strategy that also enhances brand value. Brand owners desire not only to generate meaningful revenues, but also sustain brand relevancy by increasing touch points with consumers through licensed brand extensions.
This is the reason that licensing has grown to become a $185 billion industry, responsible for the growth and longevity of many of the iconic brands consumers are familiar with today.
On June 18, more than 14,000 attendees will gather from around the world at the Mandalay Bay Convention Center in Las Vegas for the 33rd annual Licensing Expo.
Sponsored by the international Licensing Industry Merchandisers' Association (LIMA), the three-day event – a testament to the growth of the licensing industry – has become the premier event for licensing professionals to network, share innovative ideas and create new business partnerships.
This year, more than 90 countries will be represented on the show floor, where 400 exhibitors will display products on behalf of more than 5,000 brands and properties.
As in years past, properties ranging from entertainment, corporate brands, sports, digital, art and celebrities will be present on the show floor.
Led by this year's keynote speaker, Gwyneth Paltrow, founder of Goop.com and co-owner of the Tracy Anderson brand, fashion will stake its claim as the largest segment in licensing, representing $37 billion at retail. To draw attention to the growth in fashion, Advanstar, organizers of Licensing Expo, have created a newly designated Fashion District, which will group the more than 40 fashion brands exhibiting at the expo.
Among the many fashion brands premiering this year at the Licensing Expo will be Authentic Brands Group properties, which include the Marilyn Monroe Collection, Judith Leiber, Adrienne Vittadini, Taryn Rose, Hart Schaffner Marx and Hickey Freeman.
In addition to the Fashion District, Licensing Expo will feature a new layout, separating the show floor into four key areas – art and design, characters and entertainment, agents and brands and fashion. Exhibitors such as The Coca-Cola Co. and Nickelodeon already have announced that they will be taking advantage of the expanded layout by increasing their presence through showcasing new and innovative brand extensions and more properties than ever before.
As an agency that has been exhibiting at the show since its inception 21 years ago, Beanstalk looks forward to this more targeted layout of the show floor. The company anticipates that it will be better for exhibitors as well as attendees, and is looking forward to experiencing new and innovative brand extensions from its colleagues.
The digital category is one that continues to innovate with its brands, because companies in that category have made licensing a core marketing component from their early stages of brand development and have used it to generate rapid business growth.
This year's Licensing Expo is shaping up to be one of the biggest in history.
Michael Stone is the CEO and founder of Beanstalk, a leading global brand licensing agency. For more information, visit www.beanstalk.com.