LiDestri Food and Beverage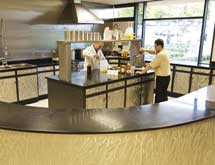 New logos, a center of innovation, and an exploratory spirit are pushing this food manufacturer to new levels. It's been said that a picture paints a thousand words. With its newly designed logo, this is exactly what LiDestri Food and Beverage is hoping for. With more than 35 years behind its current logo, the LiDestri family didn't make a final design decision with haste. Instead, said Stefani LiDestri, senior vice president of business development and marketing, the company decided what message it wanted to send and went from there.
"The mission of the redesign was to reflect the modernization of the brand in an uncluttered and forward-thinking way but inspired by the tradition of the company," said LiDestri. "It speaks to our company right now: it's in motion and growing."
LiDestri Food and Beverage made a name for itself as a private label and co-pack manufacturer of sauces, dips, and salsas. In 2004, the company jumped out of its product comfort zone and developed Dundee Spirits.
Although only a $10.5 million company, much smaller than its $420 million parent company, by using the same strategy as they did to grow LiDestri Food and Beverage, LiDestri and her team expect Dundee Spirits to thrive.
To give Dundee Spirits (soon to be renamed LiDestri Spirits) room to grow, the company added a fifth location, a 625,000-square-foot facility in Rochester, NY, earlier this year. The new facility, plus the 28 12,000-gallon tanks that were just installed, increases the company's spirits capacity by more than 400%.
"Buying the facility was a great investment for us," said LiDestri. "It's affording us many opportunities by expanding our capabilities."
Seamless transition
Perhaps the most significant opportunity was the development of the Innovation Center. Complete with rigid, semi-rigid, and flexible food and beverage manufacturing lines, which enable the company to service boutique businesses and smaller brands, the Innovation Center allows LiDestri Food and Beverage to partner with larger companies looking to test products and support test markets before committing to a national launch.
"Our ability to service large companies with their test market needs will help them go to market faster," she said. With the company's co-pack and private label manufacturing capabilities, the LiDestri business model also enables companies to scale up production if the test market results are successful.
"We're proud to be a leader in offering this service in our industry," LiDestri said. "We expect the Innovation Center to be up and running in 2011."
The Innovation Center is equipped with a pouch line supporting the beverage division. As an alternative to glass, the company's uniquely manufactured pouches reduce the packaging carbon footprint by 85%—something the company's new logo hints at. "We went with a very green look to promote our sustainability efforts and our environmental consciousness," said LiDestri. "We wanted it to be simple, memorable, timeless, and versatile, but to add a creative element, we put a leaf into the design."
The Innovation Center's flexibility will allow LiDestri Food and Beverage to become a much larger player in the foodservice industry. LiDestri indicated that several of the company's multinational customers have already expressed an interest in taking advantage of the Innovation Center's capabilities to support their own marketing efforts. Word is also quickly spreading about the Innovation Center's pouches and their foodservice and retail possibilities.
"Many companies are looking to use pouches for their packaging because they are a cost-effective solution and better for the environment," LiDestri said. "Once the Innovation Center is open, we expect business to take off."
Heart to heart
Innovation Center aside, LiDestri Food and Beverage has expanded its scope by growing its infused oil, cooking wine, and spice product lines. It's also continued to innovate in its pasta sauce line with To Be Healthy, which is developed specifically for LiDestri Food and Beverage's proprietary brand, Francesco Rinaldi.
With four flavors to choose from, including tomato basil, garlic onion, garden vegetable, and spicy marinara, the DHA- and Omega 3-fortified pasta sauces will not only bring the brand to a wider audience, it will also further enhance LiDestri Food and Beverage's national presence.
"With our Francesco Rinaldi To Be Healthy pasta sauce, we've elected to participate in the voluntary national sodium reduction initiative," said LiDestri. "The guidelines decrease the sodium content over time to help Americans adjust their palette to healthier foods gradually."
LiDestri Food and Beverage put a video on its website to help consumers understand the benefits of Omega 3. In addition, the company worked diligently to ensure the To Be Healthy logo is streamlined, simple, and healthy—a perfect match to the benefits of the product itself. With a big tomato on the front in the shape of a heart, and the American Heart Association standing prominently next to the word healthy, the message comes across picture perfect.
So from the redesign of its logo to the new designs of its heart-healthy pasta sauces, in all of its moves, LiDestri Food and Beverage is focused on one thing: illustrating its know-how. "We have the expertise to do so many things beyond pasta sauce and salsa," said LiDestri.
With 75% of its business focused on contract manufacturing and the remainder in private label and house brands, LiDestri Food and Beverage can accurately label itself a B2B corporation. Now it's letting others know its potential.
"We've been considered specialists in the niche areas of sauces and salsa for more than 30 years," LiDestri said. "Our corporate marketing efforts this year are focused on creating awareness around our other strong suits."