LifeProof Samsung Galaxy S III Has Arrived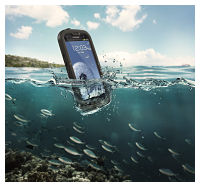 July 24, 2013 – LifeProof, the award-winning maker of all-protective, everyday cases for smartphones and tablets, today announced the availability of the LifeProof nuud and fre cases for the Samsung Galaxy S III. The latest member of the LifeProof family, and the first case offered for Android smartphones, provides users the same waterproof, drop proof, dirt proof and snow proof protection as every LifeProof case and features a clear back that allows users to show off the phone's color and design.
The LifeProof case for the Samsung Galaxy S III provides rugged protection in any environment in an incredibly sleek and low profile case. Every feature and function of the phone is accessible, including touch screen functionality, volume controls, the home and back keys, as well as the front and back cameras.
In addition, the speakers and microphones are protected while still providing great sound, and the headphone jack and charge port are covered from the elements until they are needed. The slim form factor is designed to easily slip in and out of pockets.
The Samsung Galaxy S III case comes in two versions, the LifeProof nuud, which allows users to touch the actual smartphone screen, for the ultimate touch-screen experience; and the LifeProof fre, incorporating a built-in scratch protector for users that want additional screen protection.
"We're very excited about our highly anticipated Samsung Galaxy S III case," said Fredrik Tortensson, LifeProof Executive Vice President, Global Sales and Business Development. "The nuud especially is really a game-changer because it's the first and only waterproof, drop proof case without a screen cover for the Galaxy S III. The technology behind the design is something quite special and unique to LifeProof."
Both the nuud and the fre are available at Best Buy and on the LifeProof website.