Limited-edition Nike CR7 Mercurial Vapor IX available at SOCCER.COM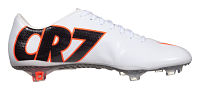 Feb. 6, 2013 – Nike has produced 100 pairs of the limited edition CR7 Mercurial Vapor IX worldwide, and distributed 20 pairs for sale on SOCCER.COM. The most exclusive cleat in the world, Nike created these limited-edition shoes to celebrate superstar Cristiano Ronaldo's legendary 2012.
The numbers on the shoe stand for different milestones Ronaldo achieved last year: His first La Liga title with Real Madrid, nine goals scored in 14 games for Portugal's national team and the first player to score against all 19 rival teams competing in La Liga during a season. Ronaldo turned 27 in 2012 and played 55 matches for Real Madrid, scoring a total of 60 goals.
To ensure fairness and accommodate the anticipated intense demand, SOCCER.COM is allowing customers to register for a chance to purchase the shoes. Interested customers should visit soccerdotcom.lockerdome.com/contests/104924711 by Feb. 7 to register for the lottery. The shoes will be priced at $300 and 5 pairs will be available in men's sizes 8, 9, 10, and 11. The 20 winners will be selected at random, contacted by email and invited to purchase the shoes using an exclusive password.