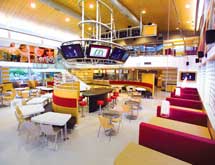 These pioneers helped many companies in many markets create a brand identity that resonates with consumers. But their work is far from done. After 65 years of leadership as a design and brand strategy firm, Lippincott is only getting started. According to Randall Stone, senior partner, creating some of the most recognizable brands in multiple industries is but a steppingstone to future projects.
Lippincott was founded in 1943 by preeminent product designers, the stylists for the Tucker automobile and designers of the Johnson Wax Pavilion at the 1964 New York World's Fair. It has design and strategy offices located in London, Hong Kong, Dubai, Paris, and Boston, but most of Lippincott's nearly 200 people are in the firm's New York headquarters.
As time passed, the company came up with the idea of creating an identity for corporations, not just products. The firm coined the phrase "corporate identity." The idea that a company or a retailer could be packaged into a brand was revolutionary and began the trend of developing a corporate brand identity.
Around 3,000 clients later, Lippincott's projects bolstered its reputation in many industry sectors, designing restaurant prototypes for McDonald's and Sonic, dealerships for Nissan and Infiniti, gas stations for Chevron, bank branches for Citizens Bank, and logo and livery design for Delta Air Lines. The company is helping Walmart reposition itself with a new identity and logo and with new stores in the prototyping phase around the country. Typical Lippincott clients are among the most successful and largest companies in the country.
Full service station
Lippincott today offers a comprehensive array of services. In brand analytics, the company employs top statisticians and PhDs in analytics. Combining those individuals with its branding experts, Lippincott can understand and quantify the mechanisms, drivers, and elements important in creating, maintaining, and populating brands.
"Whether it is brand valuation or a touch point driver analysis to figure out which aspects of experiences are important to consumers, we help our clients understand and research their target consumer, their behavior, and their interaction with various brands," said Stone.
Lippincott's positioning and branding abilities also help companies define and position their brand in the marketplace, developing the building blocks of the brand, which helps differentiate its clients from competitors and create the key messages that resonate with target audiences.
The company's brand communications capabilities help clients express their brand across all available touch points. It begins with building an identity, creating names, logos, and visual systems. This brings the brand to life visually. Everything from the color palette to the type of photography used must completely represent the brand. The firm has a proprietary approach called Customer Experience Mapping SM that identifies all the touch points in a customer's interaction with a product or service and ensures the consistent expression of the brand at each.
Lippincott also helps clients create brand environments, including retail experiences. Whether the company is designing stores, as it has done for RadioShack and Country Road, or helping with other signage and visual or trade show merchandising needs, Lippincott helps brand identities manifest physically.
Last is brand management. These are tools Lippincott provides so clients can fully implement their brand, position and maintain it, and develop metrics and other ways to measuring performance. "Brand scorecards help clients evaluate their brand and create guidelines, brand centers, and Web sites that give them tools to integrate their brand into the market," said Stone. The firm's "Brand Book" guidelines for Walmart won several awards.
The company is also adding sensory experiences to its abilities. This means brand experiences beyond the visual and adds mechanisms using the other senses, such as hearing and smell, to connect clients with customers. Lippincott's sensory programs are currently at work for Samsung and Hyatt Place hotels. This is part of Lippincott's effort to find new ways to be an industry leader.
Forward thinking
This complete breadth of services gives Lippincott a leg up on simple design or strategy firms. The company also has a culture that supports long-term business consulting-type relationships. Not only does Lippincott provide strategy and design services, but the company also understands its clients' business. This allows company and client to work together to build brands over a long period to support sustained, meaningful growth. The only way Lippincott can do this is with a hands-on attitude throughout the organization.
"We structure our projects top down. Senior partners are fully engaged in each project so clients get the utmost expertise and participation. Partners work closely with the senior partners, and our teams are small and focused," Stone said. "Many projects turn into sustained relationships, and that is how we deliver value. Maintaining a relationship with us helps clients develop ongoing customer experiences and brand programs."
While Lippincott has clearly invested in technological tools that support staff in their work, the biggest investment has been in recruitment and retention. Stone attributed the company's steady growth to talent, which is recruited at the senior level. The company has a senior partner in charge of recruitment, and no one is hired before going through multiple interviews with different people to determine that candidate and firm have a mutual feeling that this is the right place and the right hire.
It is an ongoing obligation of all senior staffers to provide training to junior staff on both company procedures and philosophy. Whenever necessary, training is provided, like technically based training on Adobe InDesign, Illustrator, Autocad, or 3D Studio Max software used by Lippincott's graphic and retail designers.
To continue expanding its business globally, Lippincott identified markets with opportunities in Asia and the Middle East, opening dedicated offices to sustain its steady growth. The firm is also part of the Oliver Wyman Group, enabling its consultants to work from more than 40 offices in 16 countries worldwide. This helps with customer service, as many Lippincott clients are global firms. This also helps the company weather the current US economic climate, as a global base of clients makes it less susceptible to individual market fluctuations. At the same time, economic difficulties can actually make Lippincott more important to its clients because the brand is often the differentiator between success and failure.
"Regardless of the size of a company's budget, companies need to be sure the expenditures and decisions they make about branding are well allocated," said Stone. "We are sometimes the first people called if the market slips because that is a crucial time for companies to make sure they are communicating a message that will resonate with the consumer."