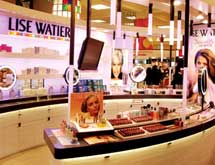 A precise understanding of quality has given this Montreal-based beauty company room to grow across Canada and into the US. Madame Lise Watier has always understood that beauty means more than applying makeup. It requires finesse, taste, and an understanding of quality. In 1968, she founded the Institut Lise Watier in Montreal to teach women those fundamentals through classes on etiquette, how to dress properly for an interview, how to do their hair and apply makeup, and a myriad of other subjects.
In the years she hosted the Institut, Mme. Watier found that no one brand met her makeup or skincare needs, so in 1972 she launched Lise Watier Cosmétiques, Inc. Since then, she has become a beauty authority and icon across Canada, particularly in her home province of Quebec.
According to Anne Martin-Vachon, president and CEO of Lise Watier Cosmétiques, there are three pillars that have made it possible for the company to maintain the level of success it has for the past 37 years. First is the creative innovation behind the development of the company's makeup, skincare, and fragrance products.
"We are about practicality and multi-use applications," said Martin-Vachon, who became president and CEO in August 2008. "If you look at some of our products, from Portfolio professional correctors to eye glitters to items in our skincare line, they are very practical, innovative, and they come with advice."
Mme. Watier herself is Lise Watier Cosmétiques' second pillar of strength, said Martin-Vachon. The founder's personal philosophy is that women choose to be happy, full of spirit, and full of life, and living such a lifestyle makes all the difference. It should therefore be no surprise that delightful leadership is the third pillar of the company's strength.
"We are a Montreal homegrown and still-thriving beauty company," said Martin-Vachon. "Montreal is known as a mix of North American and European cultures and for its creativity, sophistication, and entrepreneurship. Those qualities come out very clearly in everything we do here at Lise Watier Cosmétiques."
Growth potential
Lise Watier Cosmétiques operates within the first tier of the Prestige brand market, which means its products are of the highest quality but not the highest cost. When Martin-Vachon became president and CEO last year, she saw the company's strong position in Quebec but also saw the potential for growth both across Canada and even into the US.
Lise Watier Cosmétiques is the number one brand in its market in Quebec, but even within its hometown province, there is room to grow. "In our province, we're more developed in cosmetics but less so in skincare," said Martin-Vachon. "We have 60% brand awareness but less than 20% product trial, so our first growth initiative is focused on Quebec."
Across the rest of Canada, Lise Watier Cosmétiques has less than 20% brand awareness and less than 5% trial. These numbers are low primarily because the venture outside of Quebec has been a recent development. To build greater brand awareness and translate that into product trial, Mme. Watier is putting her story on Canada's The Shopping Channel (TSC).
"She will be presenting the brand and telling her story," said Martin-Vachon. "I've also coupled her with a dynamic English-speaking American makeup artist who is extremely knowledgeable in beauty. After testing the dynamics of their personalities, it was obvious that they make a dynamic duo."
The company's approach to entering the American market is similar but not exactly the same. Unlike the US, Canada has beauty supply outlets. There are only two major department store chains, The Bay and Sears; beauty-oriented Canadian drugstores, which carry all the Prestige brands; and then mass retailers. In the US, Martin-Vachon believes the launch needs to be anchored with a strong retailer coupled with either Home Shopping Network or QVC and a strong e-commerce presence.
"The US is a large country, very populated, and highly competitive," she said. "We need to launch in the US the right way, so we're making sure we cross all of our Ts and dot all of our Is before we press the 'go' button."
Product delineation
An expanded marketing campaign is only one of the ways Lise Watier Cosmétiques is highlighting its brand and products. Two years ago, the company's executive team decided to upgrade all product packaging by moving away from the circular gold and silver logos to straight corners, pewter and rainbow colors, and icons that clearly delineate between face products in cosmetics, eye products, and cheek and color products.
"Face products have a middle square with a brownish color, but the eyes have a blue icon, and the cheeks and color face products have a pink icon," said Martin-Vachon. "We also re-launched all of our skincare products to make it easier for the consumer to shop and choose between our 20-plus, 30-plus, 40-plus, and 50-plus lines."
The company has also launched four color-fashion seasonal collections, with one recently debuting for summer called Sea Belle. Sea Belle is centered on aqua tones, with pewter highlights and white stripes. The fall collection will be called Vibrations and will feature an argyle theme, not only for Lise Watier Cosmétiques eye shadow quads but also eyeliners.
The next two collections will be for the 2009 holiday season and for spring 2010 in line with fashion trends. "The overall theme of the packaging re-haul was that it was time to bring to life the positioning and equity of the brand and have the packaging reflect that equity, which is the more upscale and Prestige equity," said Martin-Vachon.
Solid position
As cosmetics shoppers look for ways to save money, Lise Watier Cosmétiques is in a solid position. As the first tier of the Prestige brand, the company's products represent a good value because they're at the top of the charts from a quality standpoint and reasonable from a pricing standpoint. And being in distribution in over 1,300 doors makes Lise Watier Cosmétiques very accessible.
"People are trading down from the high end in skincare and in cosmetics, and we seem to be benefiting from that," said Martin-Vachon. "But we're also strong as people are trading up."
Lise Watier has many unique, innovative products in cosmetics, skincare, and fragrances in accordance with its first pillar of strength—creative innovation. In 1993, the company launched Neiges, and it continues to be the number-one selling fine fragrance in Canada. As women become increasingly careful with their money, beauty is a necessity, and Lise Watier Cosmétiques knows exactly what they want.
"We have access to consumers willing to give us their opinion because there is a pride in Quebec about this company," said Martin-Vachon. "Additionally, the dedication and passion that the employees have for this brand and this company is phenomenal and exceptional, and that unique culture translates into the products we provide."