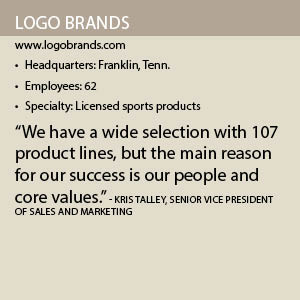 Logo Brands has a competitive nature to win and that includes hiring its staff. Vice President of Business Development Jason Potts, a 20-year industry veteran, says the culture at Logo is unlike anything he has experienced in the workplace. "We started in a garage and keep that mindset that we are still in the garage," he adds. "The bigger we get and the more products we have, we keep that mindset of being in the garage and hold each other accountable to do their job and for their actions. It's a very special place to work."
With 107 product lines and licensing agreements with collegiate teams, the NFL, MLB, MLS, NASCAR, NBA and NHL, Logo Brands has gained momentum and a wave of success that is attracting talent daily. "People are calling us out of the woodwork to see if they can join our team," Talley says. "That's a positive direction and instead of us going out and explaining what they do, people are coming to us. Everyone is enjoying it and it's fun to be a part of."
Merchandising Strategy
In the ever-changing retail landscape, Logo Brands remains nimble to that fact. "We rebranded to market the company to our consumers' needs and our product lines," Vice President of Brand Phil Dooley says. "We were called Logo Chair, but with 107 different product lines we needed to rebrand and did to Logo Brands last year."
To build its brand within major retailers, Logo Brands creates a store within a store experience. The company partners with retailers to use 100 square feet of merchandising space to pitch a tent or canopy and display a plethora of its products. "We include our fixtures and any assortment of merchandise our retail partners feel is best fitting of their consumers' needs," Dooley explains. "It's a collective experience and makes it easy for the consumer to understand how all our products come together. They can envision the environment they would be in whether it's tailgating at the stadium or beach, camping or watching fireworks on the Fourth of July. They can see it come to life within that space."
Logo Brands encourages its customers to express their affinity proudly. "We encourage our customers and retailers: Don't hold back, and let your passion be known and that they are a fan of a specific team," Dooley adds. "Customers love a professional team or college/university that we represent, we are their brand of choice in the outdoor lifestyle, on-the-go and tailgating and homegating worlds."
In addition to its merchandising space, Logo Brands uses its website to offer lifestyle shots of the end-consumer using it products. It paints a picture they can imagine themselves in. The company also encourages retailers to enhance its merchandising area in-store with non-competitive licensed apparel and headwear, for example. "We encourage retailers to bring in other product lines that tell a bigger story," Talley adds.
"We changed our name to Logo Brands and our entire brand essence took on new life," he continues. "To anyone who will listen, we are screaming from the tops of the mountain to say we are an outdoor lifestyle company – whatever that means to you we have something for you. We are trying to make sure we don't tie products to one single event – a chair can be used to tailgate, go to the beach or fish."
Now that Logo Brands has established itself as the chair brand for tailgating, consumers are beginning to take notice of its hammocks and koozies, for example. "People are comfortable with the brand and with buying other items, so it's our job to provide new, fresh, innovative product lines for them to feel comfortable buying," Talley adds.
Expanded Partnerships
Logo Brands in October announced its multi-year exclusive agreement with the University of Georgia Bulldogs, University of Kentucky Wildcats, University of Miami Hurricanes and University of Notre Dame Fighting Irish. Beginning January 2018, Logo Brands has the exclusive rights to manufacture, produce and distribute tailgate and outdoor lifestyle products across all retail channels. A year earlier, the company announced a multi-year exclusive with the University of Texas.
"That's the competitive nature of the marketplace and who we are," Dooley says. "We partner with schools that are looking to expand their breadth and depth of assortment and build their brand with how we portray and market their brand."
Logo Brands also expanded its rights with the NFL to all pillars of its business. The company has had limited rights with the NFL for the past three years. "When we first met with the NFL, we asked them to give us a chance and get to know us and how we operate because we do what we say we are going to do," Potts says. "They see that our product merchandises well and we have come through for them. We have also expanded our rights with the NBA, NHL and MLB.
The company believes it is easy to work with because it offers a frictionless relationship with every league and it thinks outside the box. "Our partnerships organically grow because they see how much we care about their brand and we don't take our licensing agreements lightly," Potts says. "We are Logo Brands employees, but we sell NFL, NHL, NBA, MLB and collegiate brands and we take that seriously. We represent them in the marketplace."
Logo Brands prides itself on treating each school as a different brand with its own personality and identity. Each brand is celebrated and presented with the freshest and most innovative products. "Logo Brands does not come first," Talley adds. "The brand of the team or franchise comes first – that's what we sell and we are aligned with who they are and what they do. People want a product of the Titans first and then I want my brand of choice to be Logo Brands. Our brand is secondary to the teams and brands."
Moving forward, Logo Brands will continue to ensure it is aligned synergistically with its teams, brands and retailers to form deeper relationships while continuing to develop innovative products for its consumers. "It's all about our people, products and our pursuit to win," Talley says. "Logo Brands, 'Don't Hold Back.'"