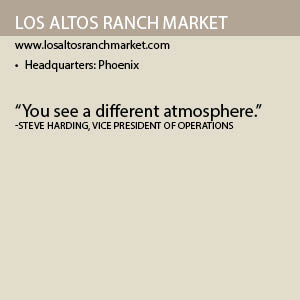 Nonetheless, Harding and Los Altos Ranch Market knew that to take their stores to the next level, adjustments had to be made. "We did have a problem with employee retention," Harding notes. "We began hiring from the outside, but we also paid higher than average. We also hired a talent development director, which has helped us grow and develop our employees from within."
The goal was to increase employee morale while improving their quality of life, and to let them know that there was a career path for them at the supermarket. Three years in to the transition, the early results are encouraging. "We don't see the turnover that we did before," Harding says.
Reenergized Stores
The seven stores rebranded as Los Altos Ranch Market have received a new lease on life. They now have access to Northgate Gonzalez Markets financial strength and supply chain structure. They also benefit from the management team's commitment to customer service and competitive prices that their customers had come to expect.
The stores remain dedicated to offering the same variety of items as before the purchase. But they now also incorporate a variety of international brands and products that allow customers to fully experience the flavors and traditions of Mexico.
It all adds up to a strong experience for shoppers. "You can feel it as soon as you walk in," Harding notes. "Folks are cooking and baking, and you get to see the experience of a traditional Mexican Mercado. Their jaws drop and their eyes are wide open."
Many grocery stores cook fresh food every day, but Harding stresses that Los Altos Ranch Market really strives to maintain its appeal to the Hispanic culture. The stores are noted for making their own tortillas, for example. The store headquarters makes 150,000 flour tortillas a week and distributes them to the other six stores in the Phoenix area.
This attention to freshness and detail is evident in the stores' other departments. At a kiosk called "La Probadita," shoppers can get guacamole made on the spot according to their tastes by choosing the levels of spices and ingredients such as cilantro, onions and chile. Los Altos Ranch Market also has a juice bar where patrons can order their own fruit or vegetable juice combinations.
At a restaurant section known as "La Cocina," customers can order tacos, rotisserie chickens, tortas and tamales using old Mexican family recipes. In the bakery section, flan and cakes are made fresh every day, not shipped in frozen. The butcher section, or carniceria, offers seasoned, ready-to-cook meats such as beef fajitas or beef chorizo, while the seafood counter offers fresh shrimp, crab legs and whole tilapia, among other offerings.
Fresh Produce
The stores also stand out when it comes to produce, where freshness and variety are prized. "We receive fresh produce in the store seven days a week," Harding says. "We do have a local warehouse that we source from, and we source as many local items as we can. The quality we have is superior."
Indeed, the produce department features several types of bananas, well beyond the traditional yellow bananas. There are sweet manzano bananas (apple bananas) as well as small baby bananas and platanos machos, which are used for cooking. There are many hard-to-find items as well, such as Verdolaga and Mamey.
The overall look of Los Altos Ranch Market's stores is very festive, reminding one of a Cinco de Mayo celebration. There are colorful signs everywhere, written in both English and Spanish.
Decorative paper banners hang in the produce department, and there are flags from all of the countries in North and South America decorating the central aisle, all in the name of giving customers an outstanding experience.
"We set ourselves apart from other Hispanic stores that aren't as focused on quality," Harding says. "The competition simply isn't willing to do this."
Limited Expansion
While staying loyal to a Hispanic customer base, Harding and the Los Altos team take a measured approach to possible expansion, even with the success of the Los Altos Ranch Market stores. "We want to stay focused in the Arizona market as much as we can," Harding notes. "Too many companies have made the mistake of growing too far outward."
Indeed, the predecessor to Los Altos Ranch Market, Pro's Ranch Market, suffered from trying to not only expand too quickly, but also too far geographically, causing supply chain difficulties.
For now, Los Altos Ranch Market is content to focus on markets it knows well, and expand its reach within those markets. That includes a strong focus on social media. Los Altos recently hired an agency to increase its profile on all major social media platforms, including Twitter, Instagram, YouTube and Facebook. The idea is to create a social media experience as vibrant as one would feel entering the stores.
Harding knows there is much additional potential for Los Altos Ranch Market. "There are foodies that really love the Hispanic culture," Harding says. "I think we have created a long-term operation that will be very sustainable."
The satisfying customer experience trickles down to employees as well. Los Altos Ranch Market hired SMG to survey employee engagement. According to the results, the company scores are much higher than average. "It shows that our people are proud of where they work and what they do," Harding notes.
High levels of employee and customer satisfaction make sense when considering the mission statement of Los Altos Ranch market: "We are committed to serve and enrich the lives of others," Harding says.