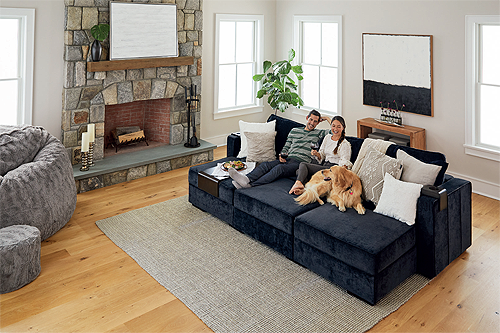 Sac-isfaction guaranteed
Having grown by over 40 per cent in 2019, US furniture retailer Lovesac continued to innovate and expand in the face of a variety of challenges in 2020
Named as Furniture Today's 'fastest growing furniture brand' in 2019, Lovesac saw no reason to slow down in 2020. Despite experiencing a number of challenges connected with the Covid-19 pandemic, the Stamford, Connecticut-based firm has continued to thrive."While difficult, the Covid-19 pandemic has, in many respects, been an opportunity for us to learn and grow," explains Lovesac's Founder and CEO Shawn Nelson. "We have never had the impetus to close down all our retail showrooms, our pop-up shops in Costco, as well as two fledging shop-in-shop partnerships with Macy's and Best Buy. Despite having to close all those stores at once and move 100 per cent online, we haven't lost any topline revenue."
As Shawn suggests, Lovesac has remained fully stocked and ready to ship its high-quality, technology driven furniture products direct to consumers throughout the pandemic, at a time when many furniture retailers are running short on inventory or experiencing long lead times. With ecommerce providing such smooth success, it wouldn't be unreasonable to think that Lovesac might switch its focus to a more online-heavy retail mix in 2021, but Shawn assures Retail Merchandiser that this will not be the case.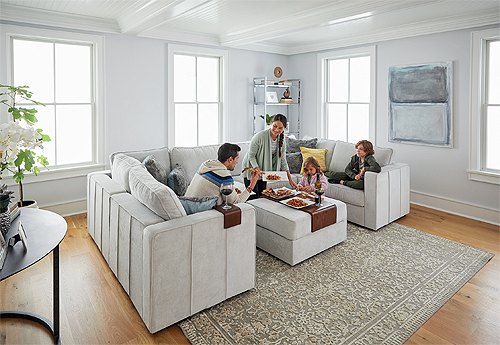 "We have opened new retail locations throughout the pandemic and plan to do so for the foreseeable future," he states. "It might seem unusual to do this at a time when our online sales have exploded – like many home category concepts, Lovesac has been doing very well lately – but as we looked at our showrooming over the past few months, we discovered that our conversion rate is much better in markets where we had a showroom active. While people might have modulated their behavior this year, our products are big ticket items and we believe that showrooming and providing retail touch-feel points are essential to helping people convert comfortably in the long-term."
Retail partnerships
For Lovesac, retail touch-feel points (locations without inventory that Shawn describes as 'showrooms for the internet'), traditional showrooms, pop-up shops and shop-in-shops will all have a role to play in the future of the business. Strategic partnerships with major retailers will continue to be a focus too and, in particular, Lovesac hopes to build on its new collaboration with Best Buy. Announced in early 2020, the Best Buy partnership recently yielded the launch of an online Lovesac shopping experience on www.bestbuy.com.
"Best Buy and its customer base is surprisingly similar to our own," Shawn comments. "We know through our own research that the impetus to buy something like a sectional sofa most often occurs when someone is relocating, and a place like Best Buy is somewhere people tend to visit during the relocation process too, so there is a really great overlap.
"Lovesac is one of the few truly proprietary furniture concepts. We don't distribute through typical wholesale relationships and we only have a small COMhandful of partners like Best Buy, which we prefer to integrate as much as we can and make them important to the business. If someone were to shop on bestbuy.com and discover Lovesac, we want the experience to be as seamless as if the customer were to shop in a shop-in-shop Lovesac location, which would be staffed by our people and look and feel similar to our own showrooms. We believe that this is what Best Buy can offer online."
No matter where Lovesac sells its furniture, demand for the company's products continues to rise. A true case of 'less is more', Lovesac offers two key product platforms: premium recycled DurafoamTM beanbag chairs called Sacs and highly-customizable modular sofas called Sactionals. With numerous patents on the product concept, both in the US and internationally, Sactionals and Sactional accessories make up around 85 per cent of Lovesac's overall business. Consisting of two components – a seat and a side – customers can arrange and rearrange Sactionals into any couch configuration they wish, while also being able to remove, wash and even change the seat fabric.
"As we continue to grow through Sactionals primarily, there is ongoing innovation on the platform as we look to make it more flexible than ever before," Shawn declares. "It delights our existing customers to know that they are typically able to use any of our innovations on the pieces they already own, as our Sactional products are reverse compatible."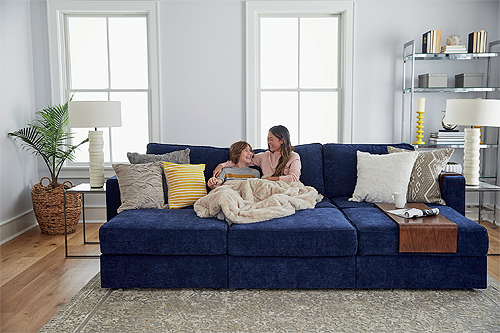 New innovations
Among Lovesac's latest creations is a storage seat with a space beneath the seat cushion to stow items. More recently, the company has introduced a power hub accessory that provides users with easy access to electricity from the comfort of their couch.
"It is a really cool invention," Shawn says of the latter. "It hides inside the couch cavity that has existed for many years waiting for this innovation and it allows you to sneak one plug out to the wall that maybe you are already covering with your Sactional. With that in place, you can have power anywhere in your couch for a laptop, blender, or smaller USB device. It is invisible and really convenient.
"Both the storage and power hub innovations have driven first purchases, but also purchases from repeat customers. The beauty of our products is that you don't need to toss out your old Sactionals and get the new ones – you can buy something like a storage seat and use it with the Sactional pieces you already have, re-cover it all to make it look new again, or simply replace that one piece."
Committed to sustainability
Looking at the year ahead, in 2021 Lovesac hopes to open up to 20 new stores in North America, a figure that will include both standalone showrooms and shop-in-shop partnerships. Aware that new retail locations alone won't be enough to continue the firm's current growth rate, Lovesac also expects to launch a variety of innovative new products.
"Ultimately, we want to expand further than our current two categories, but we also hope to expand on Sacs and Sactionals," Shawn remarks. "The Best Buy partnership we now have in place is a very strategic one and as evidenced by the power hub product, which is a pretty simple solution but a very elegant one, signals our entrance into technology. We believe that all of this together can drive high growth rates and that is our aim from a business metrics perspective."
From a more purpose-led standpoint, Lovesac wishes to build upon its core design philosophy, known as 'Designed for Life'. More than being manufactured from recycled materials and shipped are built to last a lifetime and designed to evolve so that they never go out of style or become obsolete. It is a core value that Shawn believes will only become more important across the decades to come.
"If you think about it, it is incredibly rare to find a product in any market that can last and grow with you, and change and modulate as your life changes," Shawn notes. "To that end, we see our commitment to sustainability as greater than any furniture retailer or furniture brand in the marketplace. Customers are embracing the Designed for Life concept and we believe it will not only drive growth, but that the outcome is people will buy less furniture overall and we are really excited about that. As a company, we want to reduce waste and eventually we will build into other categories where we can inspire people to buy less and buy better. That is really what drives this business."
www.lovesac.com