Lowe's Sweeps EPA Honors For Environmental Leadership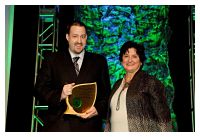 Oct. 22, 2013 – The U.S. Environmental Protection Agency (EPA) has awarded Lowe's Companies, Inc. the highest honors for industry leadership in its SmartWay and WaterSense programs. Today, Lowe's received the 2013 SmartWay Excellence Award for its environmental performance in the freight transportation industry. This month, the EPA also recognized Lowe's with a 2013 WaterSense Sustained Excellence award for its long-standing efforts to educate consumers about water-efficient products and practices.
Added to the 2013 ENERGY STAR Partner of the Year – Sustained Excellence Award that Lowe's received in March, the recent honors give Lowe's the distinction of being the only retail partner to receive all three EPA awards. Lowe's is the first retailer to win the WaterSense Sustained Excellence award and the only retail shipper partner to receive five SmartWay awards.
"The awards we received this year are a culmination of sustained and dedicated progress, and reflect our company's commitment to continually improve our performance while we provide our customers the products they need to do the same," said Michael Chenard, Lowe's director of corporate sustainability. "We're proud to be our customers' first choice for efficient products while we help control their costs through a more efficient supply chain."
Lowe's continued efforts to reduce transportation-related emissions and improve fuel efficiency across the freight supply chain industry were honored in Denver. Lowe's is a member of the Coalition for Responsible Transportation and a longtime supporter of clean-air initiatives at ports in partnership with Environmental Defense Fund and the EPA. Since becoming an EPA partner in 2005, Lowe's has generated fuel savings of more than 150 million gallons and carbon savings of 1.7 million tons, the equivalent of removing more than 200,000 cars from America's roads.
As part of its long-term commitment to promote responsible transportation practices, Lowe's recently launched a dedicated fleet of natural gas-powered trucks at its regional distribution center in Mount Vernon, Texas. Lowe's dedicated fleet is among the first serving a major retail distribution center in North America to run solely on natural gas, a cleaner and more economical alternative to diesel fuel. Lowe's is working with its third-party carriers to replace all of their diesel-powered, Lowe's-dedicated fleets with natural gas trucks by the end of 2017.
"EPA is pleased to recognize the 2013 SmartWay Excellence Award recipients. I commend Lowe's for its superior environmental performance and leadership in advancing freight sector efficiency," said Gina McCarthy, EPA administrator. "Their commitment is helping lead the freight industry to a more sustainable future."
Earlier this month in Las Vegas, Lowe's received the EPA's top WaterSense honor for its dedication to water efficiency and the WaterSense program. The Sustained Excellence award honors partners who have exhibited outstanding leadership year after year. To qualify, an organization must have won three Partner of the Year awards in the past five years.
Lowe's joined the WaterSense program in 2008 and has worked hard each year to help families reduce their utility bills and live more efficiently. The EPA estimates that Lowe's sold enough WaterSense-labeled toilets and bathroom faucets in 2012 to save customers $35 million each year on water bills and more than four billion gallons of water annually – equivalent to 2½ hours' worth of flow over Niagara Falls.
As more consumers research and shop online, Lowe's continues to increase the number of available WaterSense products and has enhanced its online Rebate Center to help customers identify utility and manufacturer rebates. In addition to consumer education and product promotion, Lowe's received recognition for collaborative efforts that included supporting the National Mayor's Challenge for Water Conservation and WaterSense's Shower Better campaign.