Luminex Home Décor & Fragrance Co.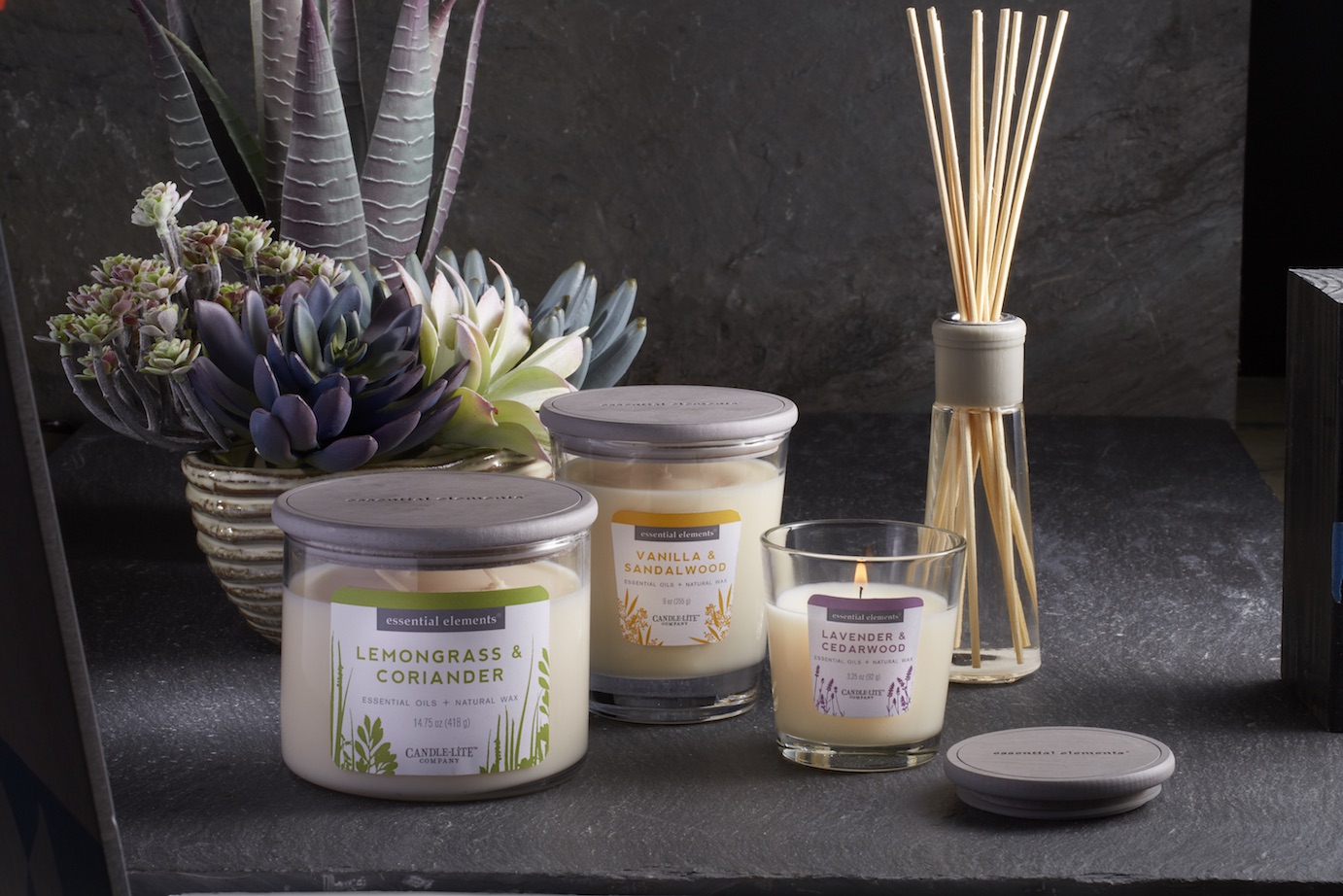 Luminex Home Décor & Fragrance unveils new collections and elegant packaging.
By Kat Zeman
Famous for its Candle-lite and PartyLite brands, Luminex Home Décor & Fragrance is illuminating the market this fall as it launches new candle collections, fragrances and accessories.
"You need to evolve with the customer and that's what we're doing," says Kecia Hielscher, chief merchandising officer. "Today, people want an elevated fragrance experience that is long lasting, burns in a clean way and they want decorative vessels for their candles."
Aside from being functional, Luminex has found that today's customers are demanding candles that are more decorative in nature and place a high value on packaging.
"Packaging is definitely taking a front seat now to where as five years ago it didn't," Hielscher adds. "How does the label look? How does the lid look? How does it make me feel? Packaging is key strategic initiative for us this year and going forward."
Lighting The Way
Founded in May 2016, Luminex is the result of a merger between Candle-lite and PartyLite. Candle-lite is America's oldest candle manufacturer, and celebrated its 175th anniversary in 2015.
This year, Candle-lite is rolling out a new design, along with a few new fragrances, for its Essential Elements collection. It is an exclusive collection of fresh scents from nature's gardens presented in classic candle forms and is designed to reflect a natural life style.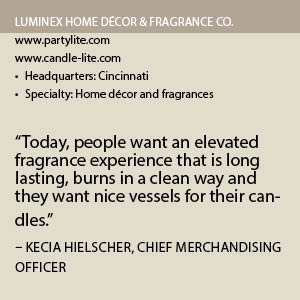 "We refreshed it with new packaging and design," Hielscher says. "It's more contemporary. It's a light, clean and fresh feel. It has a lot of botanical and earthy scents. There's a coconut water and palm leaf that is light and airy and makes you feel like you're in the Bahamas."
Essential Elements offers 12 scents and the collection now offers a new mini size (3.25 ounces). Aside from new packaging and design, the candle formulas and fragrances have been improved.
"We made the formulation and fragrances stronger," Hielscher adds. "It's longer lasting. We kept the bestseller fragrances, made them better and added new fragrances."
The top-selling and all-time favorites for Essential Elements include marriages between jasmine and patchouli, lavender and cedarwood and eucalyptus and cucumber. Added to this year's fragrance lineup is wild fig and tobac.
Celebrity Comeback
Although Candle-lite has not announced the name yet, it has formed a partnership with a female celebrity and will launch a new celebrity home fragrance collection next spring.
"It's very exciting," Hielscher says. "They are floral fragrances that are authentic and true to life. We will have eight different fragrances in beautiful packaging."
Last year, Candle-lite launched its CLCo collection. The classy white candle jars with sophisticated scents are a premium-quality addition to the company's existing candle product line. "CLCo has been extremely well received," Hielscher says. "It's amazing, complex and sophisticated. We've also expanded our distribution channels for this product."
As with other Candle-lite products, CLCo is available through mass-market food and drug retailers that include Kroger, Meijer and HEB.
The Future Is Bright
PartyLite, a direct-to-consumer sales brand with more than 35,000 sales consultants in 19 countries, also has a number of new products on the horizon.
Along with its new catalog, PartyLite is releasing three new candle collections this year. Its Nature's Light collection features stunning candles with a crackling wooden wick that mimics the sound of a fireplace. Nature's Light Candles feature a bark-effect textured glass jar.
PartyLite is also expanding its GloLite collection this year. The candle provides an instant, all-over glow with a shimmering and exclusive technology exclusive to the brand.
"We market it as the world's brightest candle," Hielscher says. "The entire candle lights up from top to bottom. It's proprietary to us."
Also new this year is the Forbidden Fruits collection. PartyLite discontinued the collection several years ago but is bringing it back due to popular demand. "They are back but they are better than they were before," Hielscher says. "We've got three fruity fragrances that are fun and sensual."
The Forbidden Fruits line is bringing back the Tangerine Tease (a provocative rendezvous of tangerine and orange with a wink of vanilla) and Fig Fatale (blend of sensual fig, succulents fruits and velvety vanilla). New to the lineup is Apricot Amour (a sensual infusion of apricot, tea rose and white lavender entwined with amber and sandalwood).
PartyLite offers 24 different fragrances in six forms that include two candle sizes, votives, tea lights, wax melts, and Smartscents diffusers (the line has a total of 41 fragrances). The brand has also increased its accessory lineup. "We have 40 percent more accessories than we did last year," Hielscher says.