Luminex Home Décor & Fragrance Co.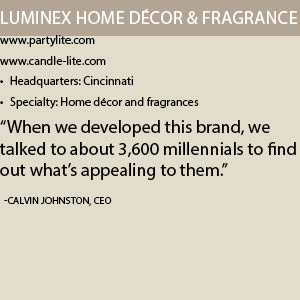 Marketing to Millennials
Candle-lite is America's oldest candle manufacturer, and celebrated its 175th anniversary in 2015. But the company is not standing still and unveiled a new brand in August that targets millennials. Called CLCo, the classy white candle jars with sophisticated scents are a premium-quality addition to the company's existing candle product line.
Candle-lite is known for competing primarily in the value segment market, but this new addition changes that. "This is our new premium brand," Luminex CEO Calvin Johnston says. "When we developed this brand, we talked to about 3,600 millennials to find out what's appealing to them."
This included asking what scents they find appealing, what type of design catches their eye and the degree of quality they wanted. The outcome? "They like more sophisticated fragrances like sea salt ginger, mahogany teak and coconut oud wood," Johnston adds. "Design was vital to them. Traditionally we do colored waxes, but CLCo is an all white wax. It's got a luxury label design and it's a higher quality jar and lid."
CLCo has 12 different fragrances and retails for around $12.99. Traditional Candle-lite candles range between $5.99 and $9.99. As with other Candle-lite products, CLCo will be available through mass-market food and drug retailers that include Kroger, Meijer and HEB.
Party Time
PartyLite, a direct-to-consumer sales company with more than 35,000 sales consultants in 19 countries, also has a number of new products on the horizon. They include a new line of its signature glass candle accessories. Known as Hurricanes, the high-quality candles are famous for their unique finishes that are designed to display the magic of candlelight.
"Our merchandising team has done a great job of capturing the current trends in the marketplace," Johnston says. "Our on-trend metallic colors are rose gold and copper." The merchandising team looks at trends in high fashion to predict colors and designs for PartyLite's décor accessories.
PartyLite is redesigning its web platform to make the sales process easier for its independent sales consultants. These representatives sell the products person-to-person, often by hosting parties.
"It's called MyBusiness," Johnston says. "It's a whole new tool for them to manage their business, planning and includes a new e-shop platform that will be exciting." The company plans to spend roughly $10 million on the platform upgrades.
Melting Pot
Last year, Luminex invested more than $15 million in the integration of Candle-lite and PartyLite. This included upgrades to the overall business process, equipment automation and new IT systems at its manufacturing facility in Leesburg, Ohio.
The union of these two companies, which both have long histories in the industry, has helped strengthen the financial health and performance of both by extending the reach of the company to even more consumers. "I think what makes us unique is the way we're able to reach consumers through both retailers and direct sales through our consultants," Johnston says. "We go to the market through both channels."
Where pricing is concerned, Candle-lite has traditionally competed primarily in the value segment, while PartyLite is tailored to the premium market – though Candle-lite is starting to branch out into the premium market as well.
Candle-lite has been primarily a North American retail-focused business while PartyLite's largest market is in Europe. However, the company plans to leverage its infrastructure to expand both businesses into more markets.
"What we've done is extremely unique," Johnston adds. "We're breaking new ground on how to operate these two distinctly different businesses in a way that's not been done before. It's quite an exciting time for the company and our employees."