Maggie Sottero Launches 3rd Annual Love How YOU Fit Campaign with Wedding Dress, Honeymoon, Jewelry, and Beauty Package Giveaway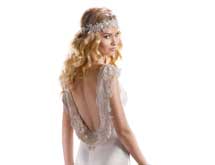 May 13, 2013 – Award-winning fashion designer Maggie Sottero – known internationally for its meticulous attention to the "fit" of its off-the-runway designs – is calling out to women nationwide to Love How YOU Fit, and giving away wedding gowns and more to three lucky brides who respond that they do.
"We're searching the country for brides who can say, 'I love how I fit,' not only in their clothes, but in their family, their workplace, their peer group, their community, and their life," explains Diana Pace, Manager Media Relations. "And we're giving away incredible prize packages to three such brides. Maggie Sottero's mission statement is to 'make dreams a reality for every Maggie bride.' We take it seriously, and we want brides to understand that the dream that comes true begins in knowing yourself, accepting yourself and celebrating the unique woman you are."
Focus groups conducted by Maggie Sottero with women between the ages of 20-50 confirm this is a struggle for most women who, as a gender, tend to feel inadequate and pressured to do more and be more, and are held to an unrealistic standard of physical perfection achieved through air-brushing, eating disorders, and media distortion.
"Maggie Sottero is committed to changing those perceptions, even if it's just one bride at a time," claims Pace. "It's time for women to rethink their sense of self. We're appealing to brides to share their stories of how they typify the Love How YOU Fit mantra, exemplify authenticity and refuse to base their value on superficial stereotypes. We're asking women to help other women learn to accept themselves, and ultimately, to reach out and contribute to a societal shift in how the worth of a woman is determined."
In the previous two campaigns, thousands of women wrote about overcoming huge obstacles in learning to accept themselves and love their fit in life. Selected winners each won a Maggie Sottero dress. In 2013, however, Maggie Sottero has reached out to the retail community to help champion the cause and share the message through prize donation and cross-promotion.
"This year, we're thrilled to partner with Oahu Visitors Bureau, The Royal Hawaiian Resort, Simon G. Jewelry and OPI Products, Inc. to extend our reach and increase our voice," says Pace. "Through the support and generosity of our prize partners, one grand prize winner will receive a Maggie Sottero wedding dress, a 5 night/6 day stay at The Royal Hawaiian, a Luxury Collection Resort on Oahu, his-and-her wedding bands by Simon G. Jewelry, an OPI beauty package, and a trip to New York to walk the Maggie Sottero runway at Bridal Fashion Week this October. Two runner-up winners will each receive a Maggie Sottero wedding dress, his-and-her wedding bands by Simon G. Jewelry, and an OPI beauty package."
Brides can learn more about the Love How YOU Fit campaign and submit their stories online at www.maggiesottero.com/entertowin/lhyf.