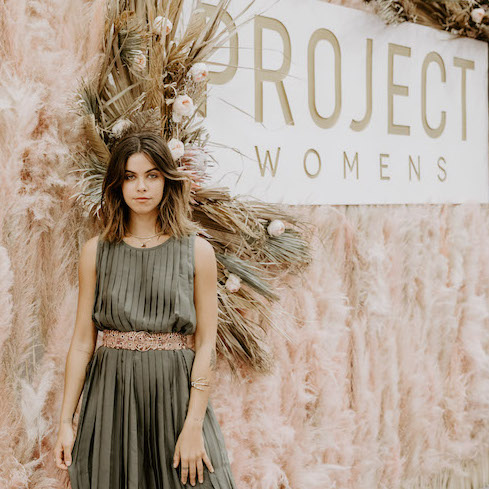 MAGIC, the leading fashion tradeshow, is centralizing its many component shows
in Las Vegas to improve the visitor experience.
MAGIC, the world-renowned fashion tradeshow, is centralizing all of its shows into one central location at the Las Vegas Convention Center. Show organizers explain the dramatic move will make it easier for participants to conduct business and collaborate with like-minded visionaries in menswear, womenswear, footwear, children's and sourcing.
MAGIC runs Aug. 12-14 and actually includes 12 shows. Retail Merchandiser spoke with executives of three of those shows to learn what to expect this year. Kelly Helfman is president of West Coast Women's and oversees PROJECT WOMENS and WWDMAGIC. Leslie Gallin is president of footwear for UBM and spoke to RM about FN PLATFORM.
PROJECT WOMENS
PROJECT WOMENS gives buyers access to an unrivaled collection of the best emerging and established women's brands. It calls itself the ultimate destination for contemporary collections, denim and accessories as well as emerging, noteworthy and cause-oriented brands.
Retail Merchandiser: What new things are planned for PROJECT WOMENS?
Kelly Helfman: We are partnering with Create and Cultivate, a very well-known platform for women's empowerment, who will be hosting a two-day pop-up summit with inspirational speakers on relevant topics such as body positivity, working on collaborations and more!
As all the shows move to a single campus, PROJECT WOMENS will be moving to the north hall at the LVCC and co-locating with Pool, Stitch and Women's Footwear. Our Canvas section, which is where retailers can shop for gift items such as candles, stationery, tech items and more, will now have beauty brands this August.
WWDMAGIC
WWDMAGIC exhibits the latest women's and juniors' trends, the most-wanted brands and the hottest emerging designers. Show organizer UBM describes it as "a can't-miss shopping experience complete with upbeat music, undeniable beauty and, of course, style."
RM: What will be new at WWDMAGIC this?
KH: WWDMAGIC will have the R&B hit group En Vogue performing on the show floor to kick off opening night. Sketchers' new apparel line will be coming to WWDMAGIC for the first time as well the Australian brand favorite, Toby Ginger Heart. With MAGIC now all on a single campus, WWDMAGIC will be moving to a new home in the south hall, which means a fresh new layout and look!
RM: How do you expect this year's events to stack up against 2018 in terms of attendance and excitement?
KH: Women's pre-registration retail numbers are up, so we imagine a great turnout! We are coming off a very successful February 2019 show, so I expect the momentum and energy to continue.
RM: What trends do you expect to be on people's minds at these events?
KH: For ready-to-wear trends, you will see a ton of tie-dye prints, '80s glam (exaggerated shoulders/puff sleeves, rocker undertones, shiny cocktail dresses/tops), neon netting (crochet-like skirts/tops/dresses), neutral canvas (think military pants, utilitarian jumper, workman shirt) and loose denim looks.
For accessories trends, think bulky chain accents, rhinestone embellishments, studded hair clips, strappy sandals, faux croc printed bags and pearl jewelry.
FN PLATFORM
FN PLATFORM is the leading global destination of the footwear industry for commerce, creativity and connection. FN PLATFORM delivers a three-day opportunity where attendees profit from innovative ideas and show floor experiences within the women's, men's and children's fashion footwear communities. Daily networking events, free educational seminars and services such as matchmaking and guided tours help create a comprehensive, one-stop-shop experience.
RM: What new things are planned for FN PLATFORM?
Leslie Gallin: We are remerchandising the show: We have aligned the apparel shows alongside footwear. FN PLATFORM women's footwear will be in the north hall alongside PROJECT WOMENS and Stitch, FN PLATFORM men's footwear will now be in the central hall alongside PROJECT, Tents AND MAGIC MENS. Children's FN PLATFORM footwear will be alongside Children's Club in the central hall and fast fashion FN PLATFORM footwear will be in the south hall along with WWDMAGIC.
We believe the adjustment of bringing all our MAGIC shows under one roof at the Las Vegas Convention Center will provide an efficient use of buyer's time and enable footwear buyers to validate their buys alongside next season's fashions.
RM: How do you expect this year's events to stack up against 2018 in terms of attendance and excitement?
LG: We are looking for a bump in attendance by bringing the shows under one roof. Our assortment of footwear brands coming from Europe is our largest assortment to date. Also, we are pulling out all stops on show site activations and experiences. Get ready for fun, learning and networking.
RM: What trends do you expect to be on people's minds at these events?
LG: I think the show will offer a wonderful opportunity for retailers to find established brands coming from Europe with whom they can gain great margins, and reduce the tariff concerns and internet selling issues.