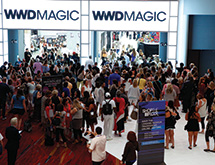 Even with my sensible flats on, I couldn't comprehend how exhausted and sore I would be after four days of MAGIC in Las Vegas. It's hard to imagine the enormity of it until you're walking through the vast expanse of clothes, jewelry, shoes, bags and so much more. The twice-annual fashion tradeshow is spread across the Las Vegas Convention Center and the newly renovated Mandalay Bay Convention Center with a combined 1.15 million square feet of exhibition space.
Across the convention centers were more than 4,500 brands showcasing their designs for the coming spring/summer 2016 season. The more than 60,000 attendees were all impeccably dressed and many of the female attendees towered through the halls on 5-inch heels; my feet hurt just thinking about it! But the tradeshow attracts all kinds of people: designers looking for inspiration, models participating in fashion shows and retailers picking out the latest and greatest for their stores.
As I walked through PROJECT, the exhibit for men's and women's contemporary styles, premium denim collections and designer collections, there was a clear theme of bohemian/Stevie Nicks-inspired clothing from the majority of the booths for women, while men's styles ranged from preppy to punk. THE COLLECTIVE inside PROJECT was the destination for all things licensing; the star of licensing for the coming season being – surprise, surprise – Star Wars. WWDMAGIC showcased the better-known brands, such as Free People, B.B. Dakota and BCBGeneration, while FN PLATFORM was all about the leaders in branded footwear, including Chinese Laundry, Betsey Johnson and Dolce Vita.
My favorite aspect of the show was the quirky Pool Tradeshow, hidden in the back of PROJECT. The designs ranged from t-shirts with cats flying through space on pizzas to leather spiked collars to curated vintage jewelry. American Apparel had a booth in the middle where it gave away free screen-printed tote bags. Just what I needed to hold all the brochures and business cards I'd collected.
Of course, an event in Las Vegas would not be complete without a few parties. The PROJECT + MATIERE party at Red Square in Mandalay Bay, hosted by Belvedere Vodka, offered mingling with PROJECT attendees, exhibitors and photographers, the best '90s hip-hop playlist I've ever heard and tasty cocktails and appetizers. WWDMAGIC celebrated its 20th anniversary this year and hosted a party at the Marquee at the Cosmopolitan; just getting into the party was akin to getting into the White House, I imagine. But it was something out of a movie with a spinning, red disco ball lighting up the room, techno music blaring in my ears and champagne bottles on fire.
It's impossible to experience everything MAGIC has to offer, which is why most attendees in the fashion world go there with very distinct purposes. My purpose was to soak up as much of the tradeshow as I could. From networking with manufacturers and learning about the latest in materials, technology and logistics solutions at SOURCING to the contemporary children's brand market at the Playground to lingerie, activewear and swimwear at CURVENV@MAGIC, you can find anything and everything.
My only gripe about MAGIC, as a consumer and shop-a-holic, is that it's so cruel to see so many amazing designs but not be able to buy anything. Hopefully I'll be seeing these clothes, shoes and accessories pop up in stores in the coming months.
The next MAGIC tradeshow for the Fall/Winter 2016 fashion season takes place Feb. 16-18, 2016, at the Las Vegas and Mandalay Bay convention centers.