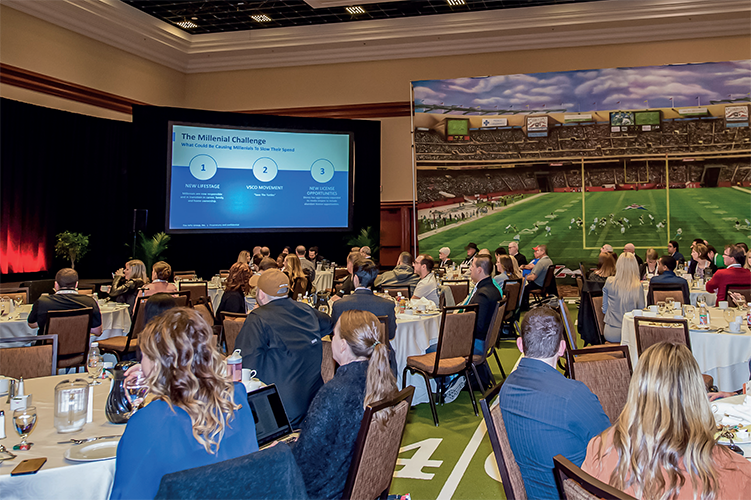 Located in the Las Vegas Convention Center in Nevada, SLTS is a trade-only event, targeting industry professionals and qualified buyers from a wide array of retailers, including specialty shops, fan shops, department stores, sporting goods stores, online retailers, collectibles and gift stores. The 2020 show attracted buyers from massively well-known names, including WalMart, Amazon. com and Dick's Sporting Goods, and the 2022 attendee list is already shaping up to be as equally well-represented.
Furthermore, the 2020 show has continued to grow in the collegiate licensing segment. In addition to hundreds of college bookstore buyers, including Follett and Barnes & Noble College Booksellers, there were more than 150 college licensing departments in attendance, from such names as Yale, Baylor and UCLA.
Why attend?
For 2022, show visitors will have the chance to visit almost 400 exhibiting companies, representing every possible product category. Collegiate Licensing Company, NASCAR, National Hockey League and NBA Properties Inc are returning as licensors, plus all of the professional leagues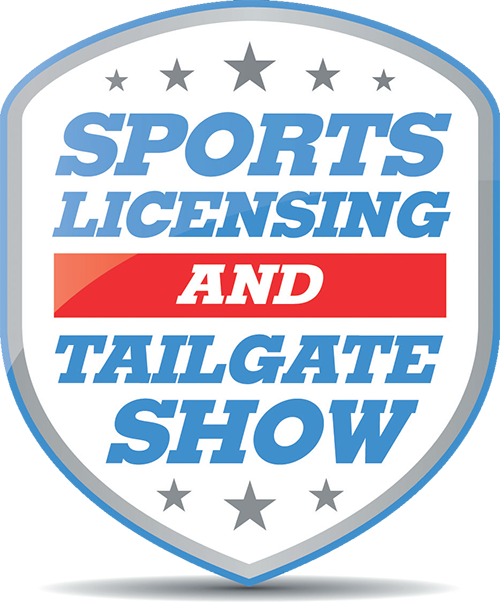 and collegiate teams will be represented.
As a result of its comprehensive reach, visitors are able to view items across all categories – from apparel and accessories to toys and souvenirs. The show is a one-stop-shop for licensed products – so, if you are looking for pet gear, for example, you can take a look at All Star Dogs, but if its trading cards and stickers for the NBA, NFL, NFL Players, Inc., MLBPA, NASCAR, College & FIFA that you are after, then you should head to stand 3111 and visit Panini America!
With products licensed by every college and team imaginable, SLTS gives visitors the opportunity to see what customers are going to want over the next season. Attendees also get the opportunity to attend networking events and educational sessions, which give insights into market activities and also inspire them with ideas that can be put into action when they return to their own stores. There is even a License to Buy discount program at the show, which offers incentives for buyers to place orders right there on the exhibition floor. In 2020, over $20 million in orders were written through the License to Buy program alone!
Why exhibit?
SLTS gives exhibitors the opportunity to show and demonstrate their products to more than 5000 attendees in total from across the USA and beyond. More than 2000 buyers will be visiting the upper level in the South Hall at Las Vegas Convention Center for SLTS, and they are put through a strict qualification process to ensure that exhibitors get the most qualified audience possible.
Another essential factor for exhibitors to consider is that the Sports Licensing and Tailgate Show is the only event dedicated to the business of sports and collegiate licensed merchandise. Retailers and schools from across the country come to this event every year to find new products, meet new vendors and – most importantly – write orders. Therefore, if you are a licensee, manufacturer or brand owner representing professional or collegiate leagues and teams, this show has to be on your radar.
SLTS describes itself as a 'deal-making show'. Retailers are in the room, and they are ready to buy! Can you afford to miss it?
The organizer
The Sports Licensing & Tailgate Show is produced by Emerald. Formerly Nielsen Expositions, Emerald is a leading operator of business-to-business tradeshows in the United States, producing over 85 tradeshows and conference events per year connecting buyers and sellers across nine diversified markets.
Emerald maintains the health and safety of customers, team members and communities as its number one priority. It is taking a comprehensive to the health and safety guidelines for each in-person event, monitoring changes in Covid-19 protocols and working to ensure all necessary health measures are in place and comply with current state and local government health policies and CDC guidelines.
https://www.emeraldx.com/
Who Should Attend?
Retailers that sell licensed products in their stores, schools and universities:
Collectibles/Gift Stores
College Book Stores
Concessionaires
Department Stores
Discount Stores
Drug & Convenience Stores
Grocery Stores
Hardware Stores
Independent & Chain Sporting Goods Stores
Licensed Specialty Shops
Mail Order/Catalog Houses
Mass Market
Online Retailers
porting Venues
Warehouse/Wholesale Clubs
And More
Who Should Exhibit?
The exhibitors are manufacturers that hold licenses for any professional or collegiate sports teams. Products from all categories are represented:
Accessories
Apparel
Collectibles & Trading Cards
Footwear
Gifts & Novelties
Headwear
Home Furnishings & Housewares
Imprinted/Embroidered Items
Picnic/Tailgating Products
Sports Equipment
Stationery & School Supplies
Toys & games
Sports Licensing and Tailgate Show
Wednesday, January 19 – Friday, January 21, 2022
South Hall, upper level, Las Vegas Convention Center
3150 Paradise Rd, Las Vegas, NV 89109, USA
https://sportstailgateshow.com/
https://sportstailgateshow.com/attendee/license-to-buy/
https://sportstailgateshow.com/show-info/health-safety-plan/.